There are a wide variety of popular Halloween decorations available. These decorations range from cute to terrifying. Decorations are wonderful because they transform normal, boring houses into something Spooky or other worldly.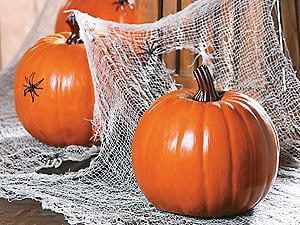 The Best Halloween Decorations
This list below includes some of the most popular Halloween decoration ideas available. Many of these ideas can be purchased or made by hand.
Jack-o-lanterns: These carved pumpkins have become a staple in almost every Halloween celebrating household. It is made using a decent sized pumpkin, a carving knife, and an idea. Jack-o-lanterns are versatile and can be carved to resemble anything. The creators of Jack-o-lanterns are only limited by imagination and muscle power. Stencils can be printed off the computer for a template to copy when carving a jack-o-lantern, so even with no artistic talent people can create amazing works of Halloween art. An alternative to carving pumpkins is to paint them. This option is preferred by those who would rather use the pumpkin at a later stage. Many people are choosing to paint pumpkins because it is less messy, reduces waste (since more pumpkins can be used at a time), it is easier to be creative with paint. Glow in the dark paint can be used to really bring out the artwork.
Door Greeters: Door greeters are terrifying decorations that are bought to scare the pants off of trick-or-treaters. These door greeters are usually some type of witch or evil spirit that moves at timed intervals and makes a lot of racket when they do. They are notorious for the element of surprise.
Front Door Decoration: People who don't have a lot of space to decorate outside, choose to decorate their front doors. These doors are decorated to look like a huge Frankenstein head or covered in creepy bats and spiders. The materials used are endless, but the decorator should keep in mind the typical weather patterns their area. Sometimes these decorations are ruined by unexpected changes in the weather.
Window Stickers: Window stickers are one of the most effortless ways to decorate for Halloween. Many stores sell a whole bundle of window stickers that promise to stick to windows for weeks. These stickers come in spooky Halloween designs and simply have to be stuck to the window.
Glowing Eyes: These decorations are made from toilet paper tubes. Spooky eye shapes are cut out of the tube, a glow stick is inserted inside the tube and the tube is taped to the wall. The cut out eyes glow in the dark creating a look of hovering eyes.
Spider Web: A simple spider web can be created to cover an entire wall. A ball of wool is all that is needed to create this pattern. Adding a few plastic spiders to the web completes this decoration.
Lamp Shade Silhouettes: A basic design, such as a flying bat shape, can be cut out of cardboard and taped to a lamp shade. When the lamp shade is the only source of light in the room, these silhouettes project onto the walls.
Types Of Popular Halloween Decorations
Facebook Comments