Cheap Halloween Costumes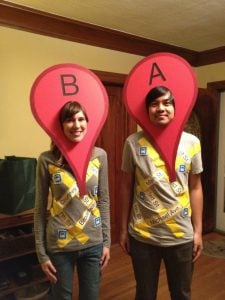 The fantastic aspect of Halloween costumes is unlike some things, what you end up paying for the costume does not necessarily make it the best one at the party. In fact, sometimes you are more bound to get recognition for cheap Halloween costumes especially if it's something really unique that you cannot find at the stores.
Consequently, the best advice one can offer is to dawn something that is original and creative, regardless if it's for you or your child. You don't need to spend a fortune for something that your child will only wear once so the most important thing is to think outside the box.
When I was growing up I watched my parents come up with crafty yet memorable Halloween costumes that likely cost less than $10. For example, one year I was a hobo as my parents came up with the idea to give me raggedly clothes, a stick with some wrapped up clothes, sharpie marker to make it look like I was dirty and that was it. You would be surprised as to how many compliments I got trick or treating that night because of my unusual outfit.
Again, you can find cheap Halloween costumes for just about any topic from superheroes to monsters to celebrities. It is especially true if you are willing to set aside some time to make the costume from scratch.
The reason costumes are usually pricey when you buy them from the store is because the manufacturer knows you ran out of time to make something on your own. You are desperate and thus will pay whatever price it takes to get you or your child a costume for Halloween.
You can avoid this common trap by planning well in advance. If you wait until the last minute to buy a costume you are likely to pay for it for more reasons than one. However, if you plan ahead you will likely save money. There are some thrift stores and online retailers that offer discount Halloween costumes, especially if you don't mind buying something that is already used. The goal is to start early and shop around in order to find the best deal available.
Facebook Comments