Halloween Movie Facts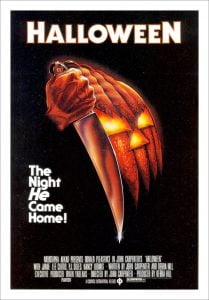 The original 'Halloween' movie starring Donald Pleasence and Jamie Lee Curtis is widely considered one of the best Halloween movies of all-time even though it is nearly forty years old. 'Halloween' was produced on a rather small $300,000 budget (at least by Hollywood standards) yet went on to gross $47 million at the box office and resulted in seven sequels.
If you are a big fan of the classic slasher/horror film did you know these facts about the Halloween movie?
1. 'The Babysitter Murders'
The simple yet fearful title of the 1978 masterpiece was originally slated to be called 'The Babysitter Murders'. While it does sound quite frightful, director John Carpenter was wise to take the advice of one of his producers by
changing it to something more simple yet continues to emit fear 40 years later.
2. Screenplay was drafted in 10 days
Carpenter and co-screenwriter Debra Hill reportedly only spent 10 days writing the original script for Halloween. When you consider that one page of a screenplay roughly equates into one minute of screen-time that is more than impressive.
3. Halloween was set in the Midwest but wasn't film there
Like a lot of Hollywood productions, the actual footage from the movie was not shot at the same location it is supposed to emulate. 'Halloween' is set in Haddonfield, Illinois yet none of the movie was actually filmed there. Instead, it was filmed in nearby Pasadena and Hollywood, California. If you look closely in a few of the scenes, you can spot palm trees in the background.
4. It was Jamie Lee Curtis' movie debut
After 'Halloween' Jamie Lee Curtis moved on to have an incredibly successful career in Hollywood including being the star of 'True Lies', a film she won a Golden Globe for. However, it all began with 'Halloween' which was her first appearance on the big screen.
5. 'Star Trek' and 'Halloween'
It may feel like it's impossible to bridge a connection between the two, however 'Halloween' used a stretched out Captain Kirk mask from 'Star Trek' for the now iconic 'Halloween' mask that Michael Myers wears throughout the film.
6. Michael Myers was not one but three different actors
Speaking of the villain, Michael Myers was not played by a single actor. Yes, Nick Castle did portray Myers for the majority of the film however production designer Tommy Lee Wallace filled in when necessary and, at the end of the movie when Myers is unmasked, Tony Moran appears.
Facebook Comments