Maternity Halloween Costumes
The dictionary defines 'maternity' as the period during pregnancy and shortly after childbirth. Fittingly, it may appear to have no connection to Halloween yet that simply isn't true. Halloween is a special holiday for not only children but adults of all ages, including moms that are pregnant. As a result, you may or may not be surprised to learn that there is a special niche market for maternity Halloween costumes.
You don't need to be a rocket science to convince any mother in waiting that her belly is a common subject of conversation. If that is indeed true, the idea of capitalizing on the pregnancy by wearing a Halloween costume that highlights just may make sense to you.
It is especially true if you can find a maternity Halloween costume that is witty and pokes fun at being pregnant in one regard of the other. There are countless maternity Halloween costumes available online, or you could even create one of your own from scratch.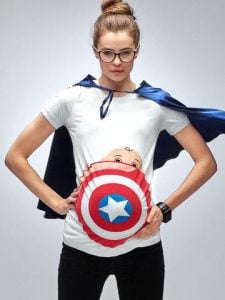 The objective is to have fun with it and make your baby bump the topic of conversation (if it is not already)! You must remember that this will be the only Halloween with this baby still inside, so it should be memorable for the two of you.
That is why it is a great suggestion to make the costume from scratch. It could be as simple as purchasing a custom t-shirt online with your own unique saying on it or go even further by putting a theme to the entire outfit with something distinct.
It really doesn't matter what you do so long as you have lots of fun with it. As usual, humor works in a variety of settings, including Halloween. If you are struggling to come up with a unique idea, there are hundreds of suggestions on websites like Pinterest. Just take a quick look and search for 'maternity Halloween costumes'.
Another good idea is to find a way you can match your maternity Halloween costume with your partner. These days are exciting times for the two of you, as you will soon be introducing a beloved child into this world. Consequently, honor that special moment by matching the outfit with your partner's, either in a serious or comical way!
Facebook Comments