The epidemic of anxiety is an ongoing issue in today's day and age, with it being the leading mental health diagnosis in the United States. Around 20% of the population has an anxiety diagnosis. During the first year of the COVID-19 pandemic, the World Health Organization estimated a 25% increase in anxiety globally. It is to be expected that as more research comes out this number will only go up. Now more than ever, a shift of focus has cast a light on mental health awareness, with more and more individuals starting to pay attention to their mental health needs. Whether you have a mild anxiety disorder, or a severe one, having an arsenal of self- soothing techniques is a must when trying to cope. More and more people are trying to find new ways to help, and businesses are listening.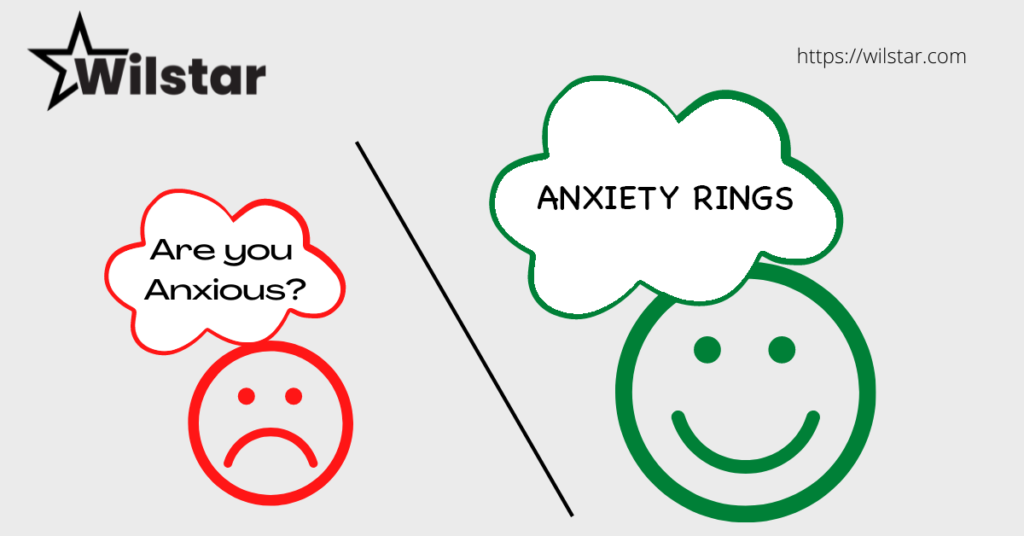 Companies are now tailoring products toward mood disorders such as anxiety and depression. Aware of this growing need, businesses are coming out with new ways to help individuals alleviate daily stressors caused by their anxiety. Among those are the best anxiety rings also known commonly as spinner, fidget rings, or worry rings. These rings gained overnight popularity on TikTok at the beginning of the COVID- 19 pandemic and have increasingly become more popular. The concept is not new by any means, if you happen to remember when fidget spinners became popular a few years ago and caused an uproar with parents and schools everywhere. Nonetheless, companies are becoming increasingly efficient, and more and more people are interested in knowing if these anti-anxiety rings can help with their anxiety.
Spinning anxiety rings can either come in the form of moveable beads, have a spinning device attached to them, or even rolling rings where the ring bands roll over each other. They're small compact structure is convenient to wear and easy to tinker with. These ring's purpose is to allow the wearer to fidget with them allowing you to be distracted from your anxious thoughts. While these have become popular, limited research is available on their effectiveness causing many people to wonder if they work.
Do Anxiety Rings really work?
Before we get into some rings that may interest you, it's important to realize that fidget anxiety rings are not a fix-all. While they can be helpful, they are only meant to be a tool, a form of coping. They do not take the place of treatment for your anxiety disorder, so please make sure you seek guidance from a mental health professional in treating your mood disorder. Depending on how severe your anxiety disorder is, these rings may not be as helpful to you as someone who may have a milder form. This is not to say that you can't still make use of them as a form of coping, but before you buy someone's product, make sure you do your research to see if it's the right fit for you, or even consult your doctor if you're unsure if it will help.
If you're wondering about the "science" behind these stress rings, it's rooted in centering, a common and effective stress management tool. You may be familiar with types of coping mechanisms for anxiety, such as taking deep breaths or counting techniques like 5-4-3-2-1. These coping mechanisms all focus on the concept of centering. When you are experiencing anxiety or having an anxiety attack, centering techniques are a way to ground yourself and keep you present. Anxiety rings act according to the same concept of centering. By refocusing your mind, you are then distracted from the stress you were experiencing and shifting that focus onto the ring itself.
 If you have gotten this far, you might be interested in recommendations for anxiety rings that you can utilize as a tool to help you on your mental health journey, lucky for you we have compiled a list below of different anti-anxiety rings with different styles and price points for every taste.
Review of 13 Best Anti-Anxiety rings to reduce Stress
If you are looking for a
ring with moveable beads, this stainless-steel option may be for you. It
comes in a 2-piece set in two colors, silver and gold. If you're someone who
anxiously picks their nails, this could be an excellent way to help battle that
habit.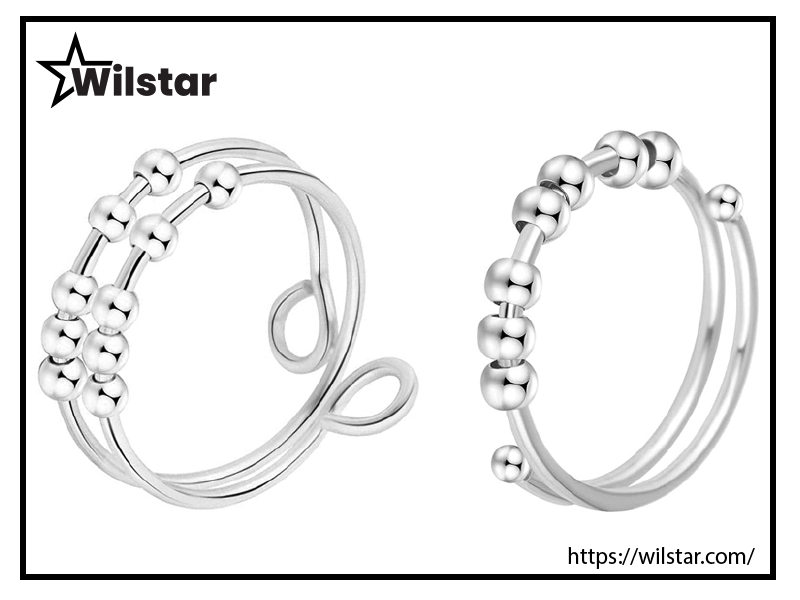 Price: $9.99
This sun and moon decorated ring aims to distract you from anxious thoughts by having a manual spinner; it's sold in a variety of different colors and sizes to accommodate a range of styles.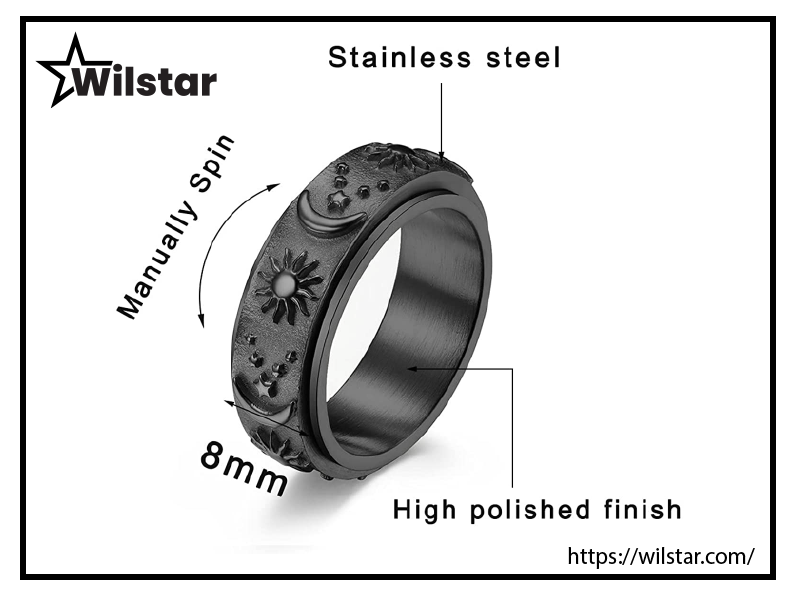 Price: $9.89
This stainless steel four-piece set comes in different styles, from flowers to moons and stars, to an interlocked ring style. Its steel component claims to be anti-fade and rust-proof. This is an affordable option if you are just starting your research into spinner rings.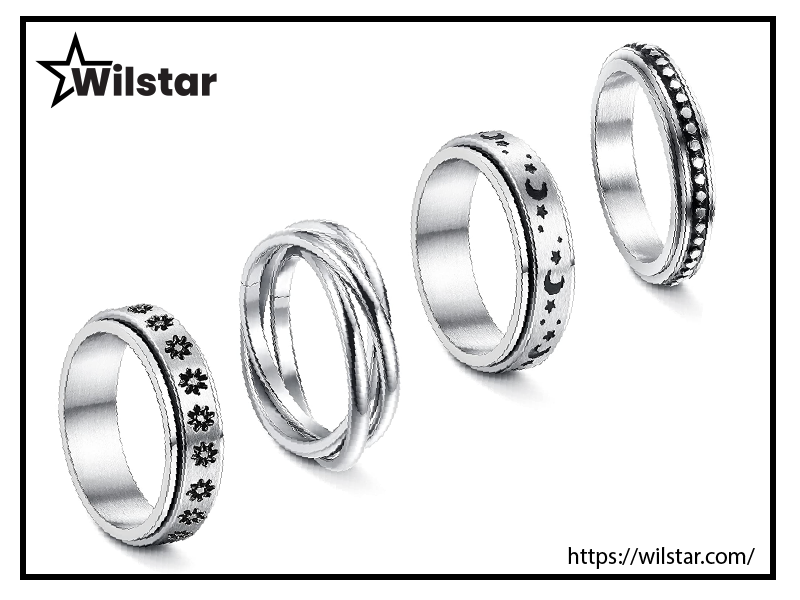 Price: $8.99
Coming in an
adjustable size, this dainty faux pearl ring is for those not comfortable
wearing a bulkier ring. Whether you want three or five beads or want a range of
colors, these rings can come in a set or be bought individually. These rings
are stackable so you're able to have more than one design on. This is another
good option for those who are looking for adjustable rings, giving you the
choice to wear them on different fingers. The price for this ring can range
from just under $10 to around $33 for a group of four.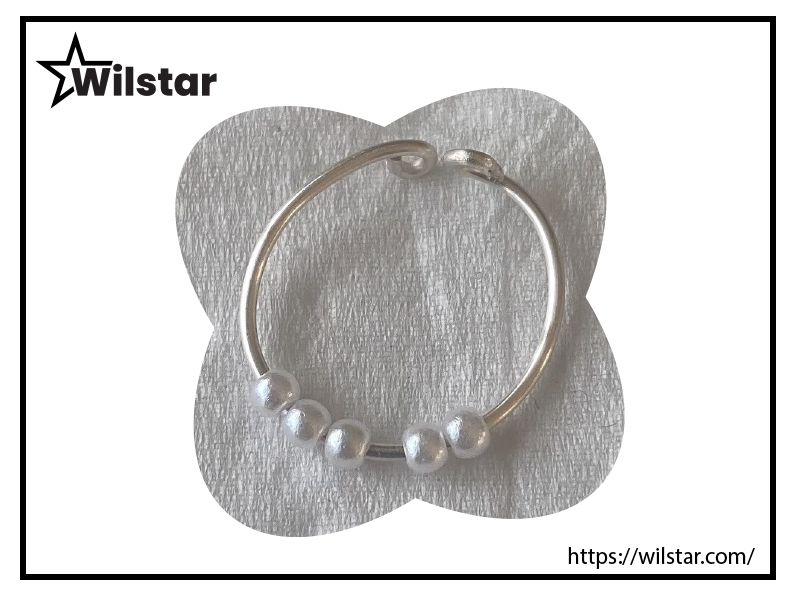 Price: $10-$33
A more masculine dark style is represented by this set of 5 and can be a good neutral option for anyone who is not into feminine styles. If you're someone who is calmed by the feel of different textures, each ring in this set has a different texture on the spinner for you to try out.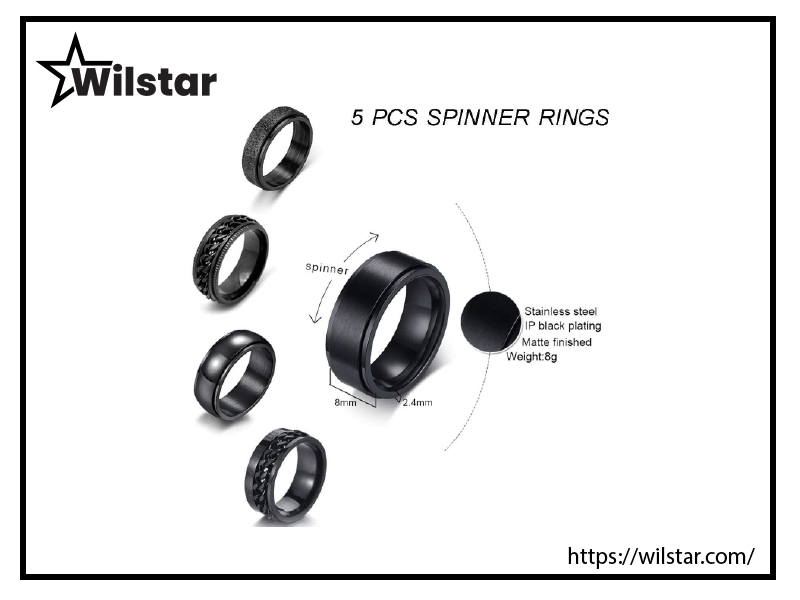 Price: $7.99
While it looks like it is a set of multiple rings, it's actually a three-toned singular spinner ring made out of sterling silver. Ranging from a size 3 to 16, it can not only accommodate larger fingers, but more petite ones as well. It boasts that the silver metal has beneficial health properties and antimicrobial properties. It may be something to look into if you are interested in "healing" rings.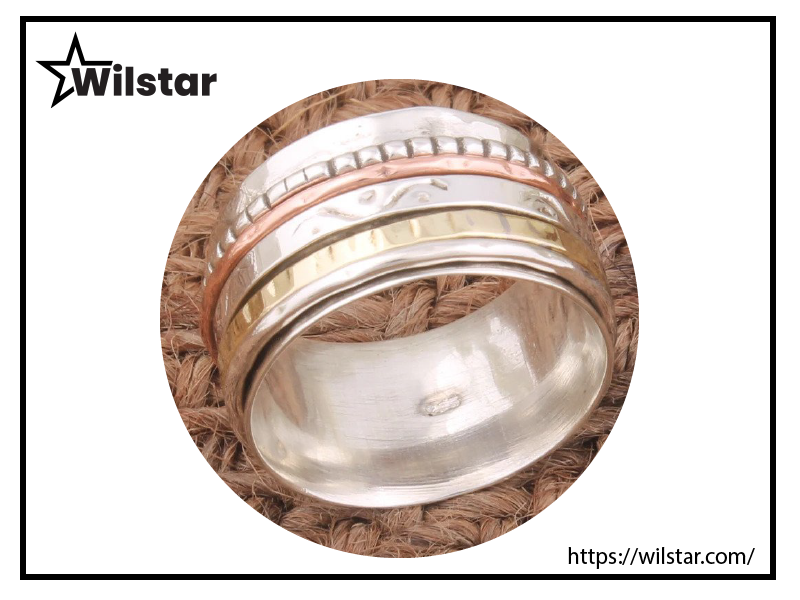 Price: $49.95
.) YOU GOT THIS Chroma Anxiety Fidget Ring
This ring is a miniature pep talk in ring form. If you're looking for a boost of confidence and a daily reminder of how awesome you are, a lettered ring like this one may interest you. This ring comes in an array of colors such as: white, pink. lavender, yellow, and green. This ring not only spins, but it also clicks. A common anxious tick for some is clicking pens. This allows for more subtle coping without the loud sound that a pen can give off.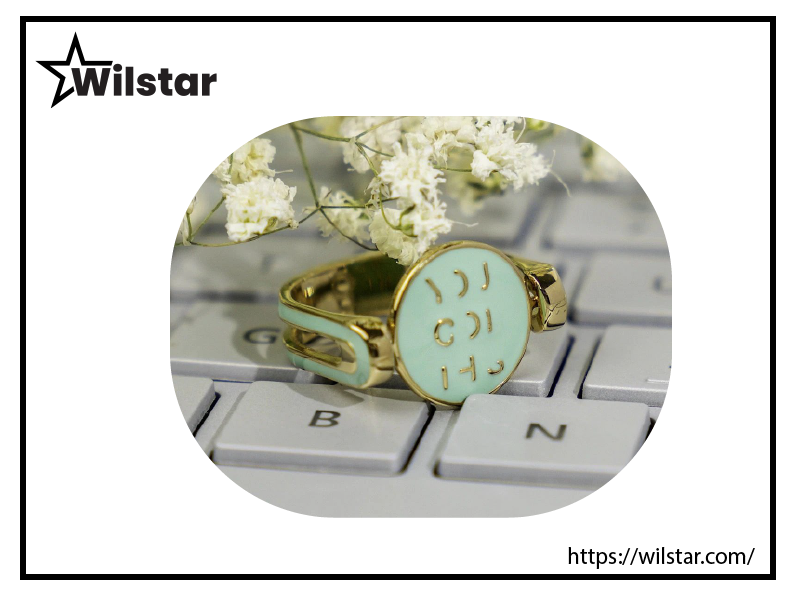 Price: $39.98
Not only is this anxiety ring a sphere, another one of its unique qualities is that it displays messages of love and the earths equator. Each ring can open up and spin when touched, allowing you multiple options to focus. This specific ring comes with a chain so you can wear it around your neck. It could be a good option if you are someone who can't wear rings on a daily basis, but still want to try this kind of ring. Another cool feature of this sphere spinner ring is that it displays the zodiac signs when it is opened. This might be the one for you if you like one-of-a-kind designs.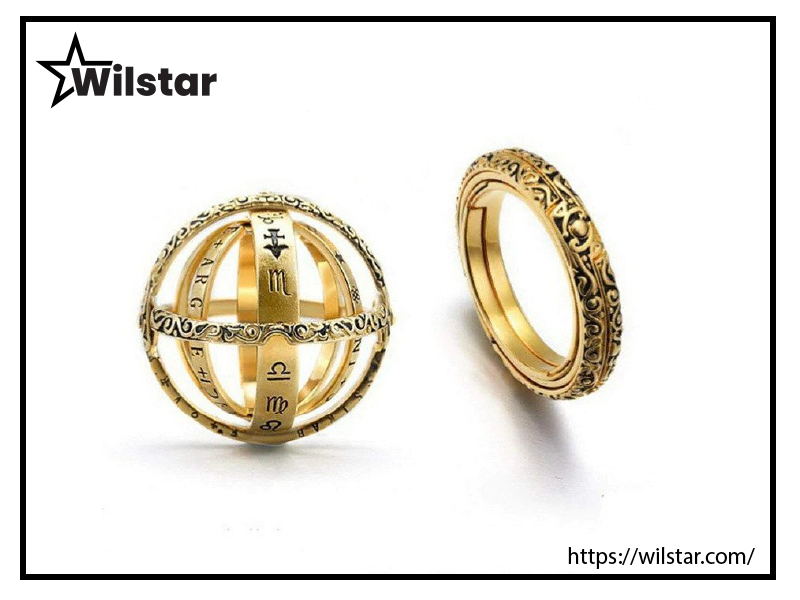 Price: $29.95
It's feminine and floral with different available colors other than black or white. Colorful and dainty, this ring has a flower that connects to an intricately designed bee at the end. It's decorated with a rhinestone in the middle that can make the flower spin. The best part? You can adjust it to whatever size you'd like.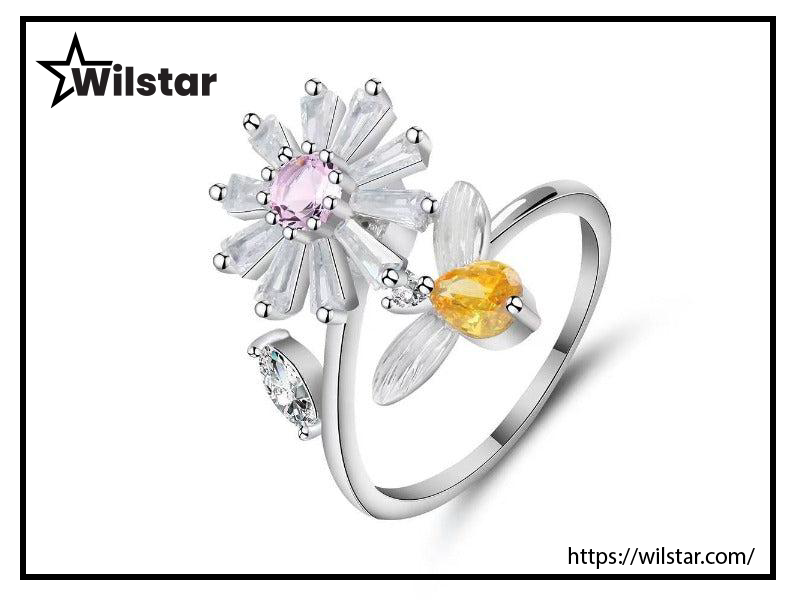 Price: $33
Choose between four different natural gemstones with this unique ring that has gold-plated spinners. Its different textures allow you to run your fingers across multiple different surfaces. While it is more pricey, this higher quality ring is hypo-allergenic and may be ideal for those who have sensitive skin.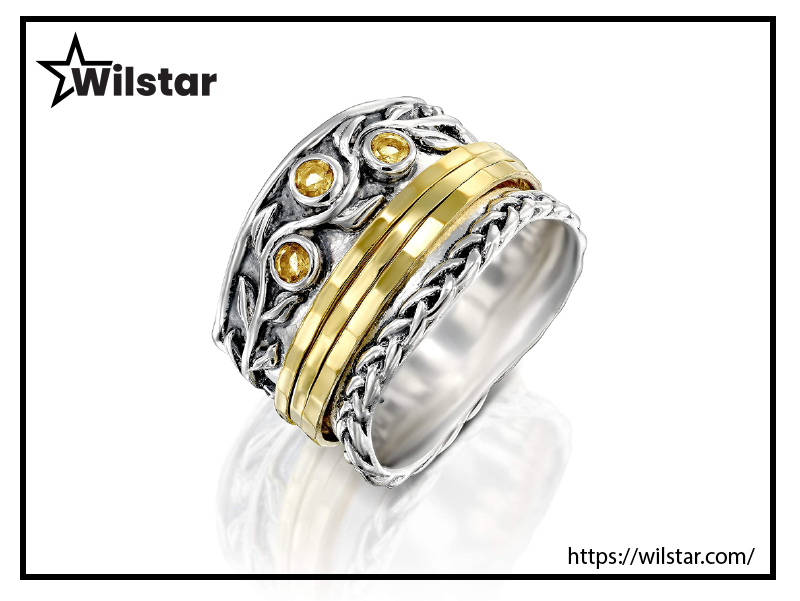 Price: $79
11.) Roller Ring- Best Spinning Anxiety Ring
Entirely covered in gold-plated brass, if you're looking for a ring that has different widths of bands that is neutral, this Madewell ring might be your preferred option. It has three bands that are interconnected to make one ring, offering a unique twist to an anxiety ring. The only downside is that it is limited to only three sizes ranging from sizes 5 to 7. So, this might not be a good option for you if you are looking for rings for larger fingers.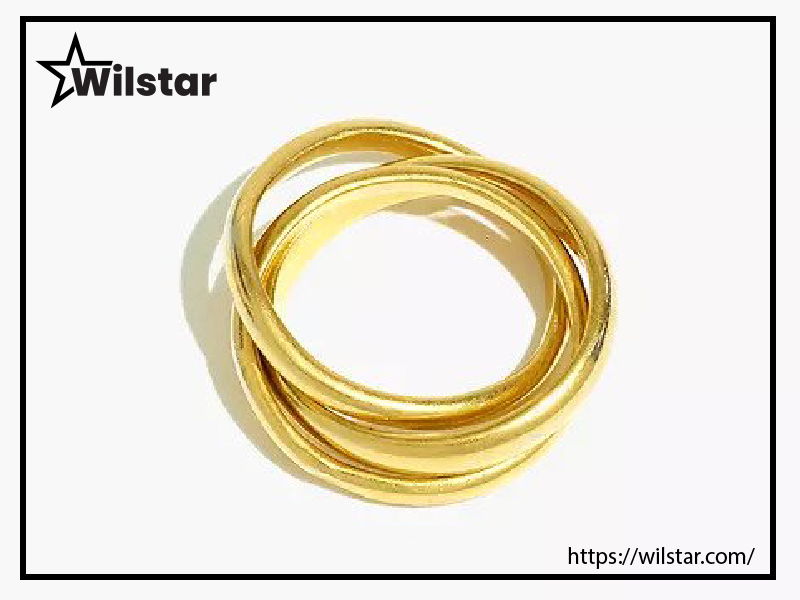 Price: $26
A size-friendly option for those who are into astronomy or planetary science. This jeweled planet has two options that allow you to adjust the ring to the size of your finger, so if you have difficulty finding an anti-anxiety ring your size, you might want to check out rings that can adjust to your finger like this one.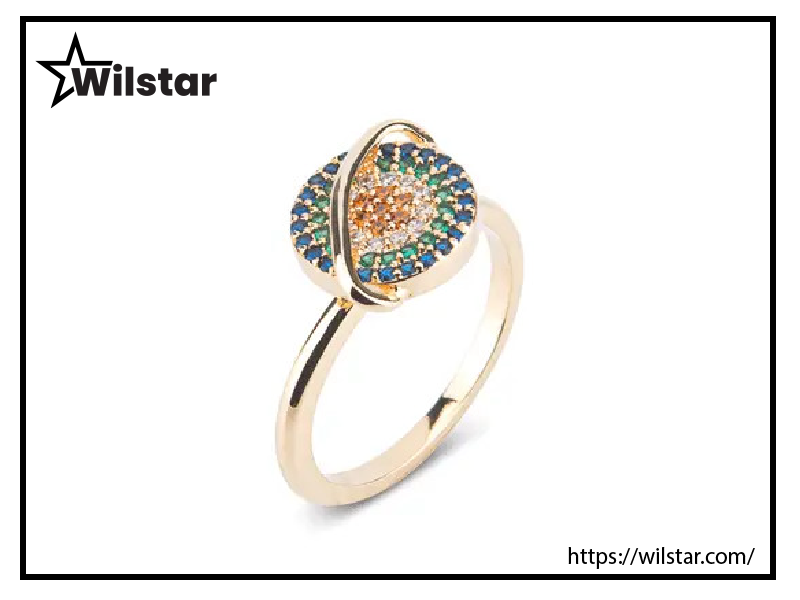 Price: $22.95
This ring set is a combination of spinner and moveable beads that offer six different options for those wanting to try out a variety of different rings to cope with your anxious thoughts. You have the option of multiple designs in this set and a perfect way to see which type of anxiety ring works best for you without the hefty price tag.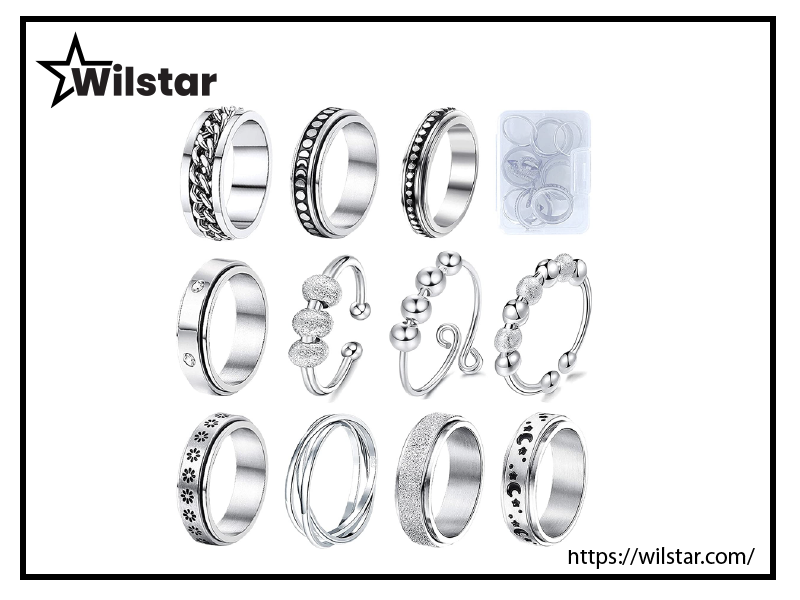 Price: $12-$22
How to Take care for your Anxiety Rings
Caring for your rings is much like caring for regular rings in that it is dependent on the manufacturer. Whenever you purchase an anti-anxiety ring, make sure you are looking out for a user manual that tells you how to properly care for and clean them. It may seem straightforward, but because they are made for a specific use, they may require a different mode of care than other types of rings. However, using a gentle soap and a soft cloth should be enough to clean your ring. Make sure you are storing you rings in a safe clean space so that debris and dirt does not affect the quality of the spinner.
While more research needs to be implemented when it comes to anxiety rings, if you are open to trying different types of coping mechanisms, it doesn't hurt to try them out. Remember that they will not take the place of mental health professionals, so if you are struggling with your anxiety disorder, please consult your doctor to get better assistance. There are many different options for you to try if you are curious to see if they will work. There are tons of options for even the pickiest person, from spheres and flowers to even planet designs. So, if you're willing to give them a try they might be the much-welcomed distraction for your anxious thoughts.