Christmas Eve
Christmas Eve is celebrated annually on December 24th by countries all over the world. It is associated with the nativity story of Christmas and the birth of Jesus Christ. The holiday is celebrated with many Christmas traditions that vary according to culture and family.
Some families will observe practices that others will celebrate on Christmas Day. This is includes holding a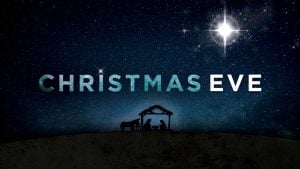 meal, exchanging gifts, decorating the Christmas tree and cookies, attending a religious service, and attending parties and gatherings of friends and family. Many observers preform most Christmas rituals on Christmas Eve and spend Christmas Day relaxing with family. Most workers and students in the United States will have eve off even though it is not considered a public holiday.
The blending of Christmas Eve and Christmas Day celebrations come from the tradition of starting a liturgical day at midnight, meaning that Christmas begins on the night of that Eve. Although the holiday is religious in origin, it has evolved into a largely secular celebration that also includes religious traditions. The secular meaning of the holiday has themes of giving, selflessness, and thankfulness for loved ones.