Diwali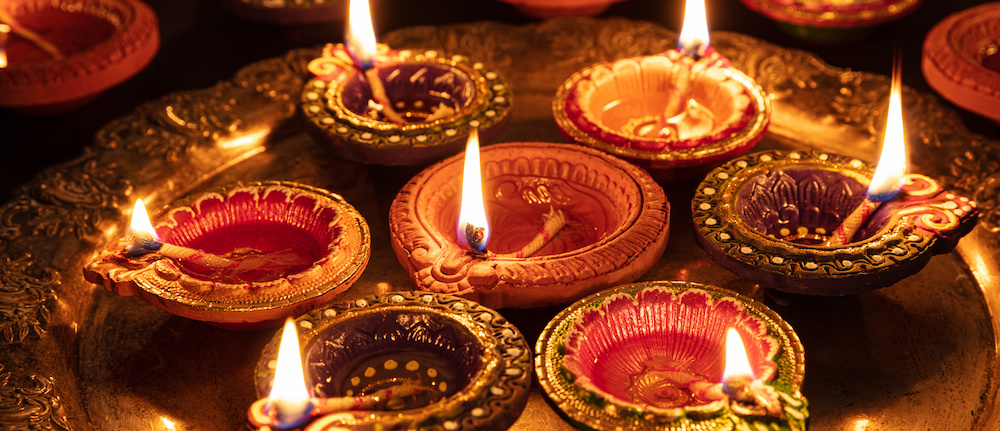 Diwali is one of the biggest festivals celebrated in India. Known by another name, Deepavali,  it is an auspicious festival for the Hindu community in India and around the world. Its name means "festival of lights," as "deep" means light or lamp and "avali" means row or array. During Diwali, the houses are decorated with rows of diyas (clay lamps filled with oil), which signify the triumph of light over darkness, good over evil, and knowledge over ignorance.
Today, Diwali is also celebrated by other communities such as the Jains, Sikhs, and also Buddhists. Every religion has a different historical story for its celebration, but the significance is the same for all.
History
Hindus of northern India celebrate this festival as the return of Lord Rama after 14 years of exile. According to Hindu mythology, around 7000 years ago, there was a prince named Lord Rama (Ramchandra) in the city of Ayodhya, which is situated in northern India. Lord Rama was later named King by his father. Due to a conspiracy by his stepmother, Lord Rama and his wife Sita were exiled to the forest for 14 years. During their exile, a demon named Ravana kidnapped Sita. Lord Rama defeated and killed Ravana, freeing Sita. On their return, the residents of Ayodhya lit the path of the city with diyas to welcome back their beloved Lord Rama.
In Southern India, the celebration is held for the victory of Lord Krishna, the eighth incarnation of God Vishnu, over the demon Narakasura. Narakasura imprisoned 16,000 girls from the defeated kingdom. Lord Krishna, along with his wife Satyabhama, won the war and freed the girls. This victory is celebrated as Naraka Chaturdashi.
Diwali is also celebrated to worship Goddess Lakshmi, known as the Goddess of Wealth and Fortune. The month of the festival is known as the last harvest before the winter season. To offer thanks for a successful harvest and good fortune, people worship Goddess Lakshmi.
The Sikh community celebrates this festival in honor of the release of their sixth guru, Guru Hargobind, who, along with 52 other princes, was imprisoned by the Mughal Emperor Jahangir. They celebrated by lighting the Golden Temple of Amritsar, whose ritual is still followed every year.
For Jains, Diwali is celebrated to commemorate the achievement of Nirvana, or Moksha of Lord Mahavir, who was a great contributor to overcoming blind beliefs and superstitions in people. Buddhists celebrate this festival in honor of Great Hindu Emperor Ashoka of the third century B.C., who converted himself to Buddhism.
Five-day Festival
This festival usually falls in the month of October-November. According to the Hindu Lunar Calendar, Diwali is the last day of the year, and it is celebrated as the beginning of the New Year of the Hindus. What happens during the five-day celebration is listed below:
Dhanteras
The first day of the festival is dedicated to Goddess Lakshmi. Many people purchase gold or silver items on this day to worship Goddess Lakshmi and as a mark of good luck. People also buy new clothes and gifts. Before the celebration, people clean their houses thoroughly to welcome the Goddess and to bless them with good fortune and health.
Naraka Chaturdasi
On the second day of the festival, also called Chhoti (Minor) Diwali, people wake up early in the morning, apply aromatic oil and herbal mix to their bodies, and take a bath. Afterward, they wear new clothes and offer prayers to Lord Vishnu. It is said that this ritual is done to eliminate all impurities and sins.
Lakshmi Puja
This is the main day of the festival. People worship Goddess Lakshmi on this day for good fortune, which is called Lakshmi puja. People decorate their houses with a number of diyas, lights, and flower garlands. They also make 'rangoli' on the floor or beautiful designs with colorful sand and flowers. Families and friends visit each other's houses and wish each other a 'Happy Diwali' and exchange gifts and sweets. Together they burn firecrackers and celebrate with all joy and laughter.
Govardhan Puja
This is the first day of the New Year according to Hindu Lunar Calendar, and the day is dedicated to Lord Krishna. On this day, Lord Krishna defeated Lord Indra, King of Gods, by lifting Govardhan mountain to save his villagers. To offer prayers to Lord Krishna, devotees prepare 56 varieties of food called 'Annakoot,' which is distributed as 'prasad' among their relatives and friends. Annakoot is specially prepared in the temples, and the prasad is distributed among the devotees. This day is also considered the beginning of a new financial year for Hindu merchants.
Bhaidooj
The fifth day of this festival is celebrated for the bonding of brothers and sisters. It takes place on the second day of the year and is known as Bhaidooj. Its name literally means "second brother", as "Bhai" means brother and "Dooj" means "second". According to Hindu mythology, on this day Yamraj, Goddess of Death visited her sister's house after a long period. She welcomed her brother by putting 'Tilak', or vermilion, on his forehead and feeding him a meal. For this reason, the tilak has become an auspicious symbol of safety and success.  This ritual is performed every year by brothers and sisters. Sisters put tilak on their brothers' foreheads and feed them a meal. In return, the brothers give gifts to their sisters.
Celebrations in Various Places in India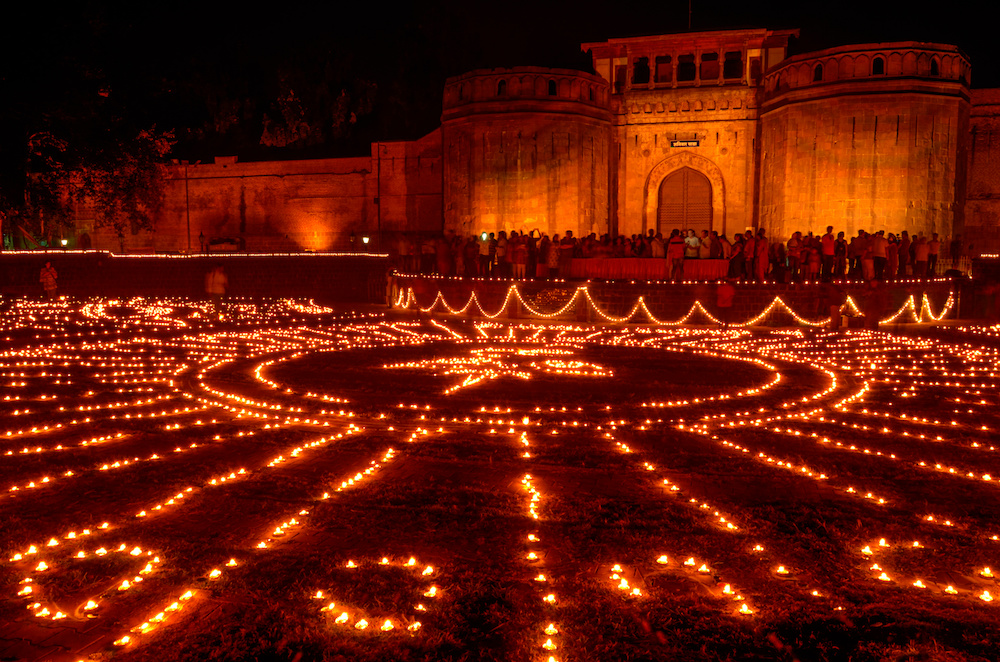 Diwali is an important festival in India and also among Hindus around the world. This festival has a grand celebration around the globe. In India, the rituals and celebrations are diverse in different places.
Uttar Pradesh
The city of Ayodhya is situated in the Uttar Pradesh state of India. People here celebrate this festival with great enthusiasm and passion. In Varanasi City, situated on the bank of the river Ganga, people take a dip in the holy river Ganga. The Ghats (banks) of this river are beautifully decorated with diyas and rangolis.
Gujarat
In Gujarat, Diwali is celebrated for seven days beginning with Ekadashi, Vaag Baras, Dhanteras, Kali Chaudash, Diwali, Nutan Varas, and Bhai Bij. Nutan Varas (New Year) is the first day of the new year according to the Gujarati Calendar. On Nutan Varas, people wear new clothes, wish each other 'Happy New Year', and exchange gifts and sweets.
West Bengal
Here. Diwali is known as Kali Puja. People of West Bengal worship the statue of Goddess Kali with hibiscus garlands. They also offer fish, rice, lentils, and sweets to the Goddess. This ritual is done in temples as well as houses at night. Bhai Dooj here is known as Bhai Phonta.
Punjab
In Punjab, Diwali is celebrated as Bandi Chhor Diwas in honor of the Sikh guru, Guru Hargobind. People light diyas at their homes and temples (Gurudwara). The celebrations are also done here to welcome the winter season.
Goa
In Goa, Diwali is dedicated to Lord Krishna, who killed the demon Narakasura. On Naraka Chaturdashi, people make models of Narakasura and burn them to mark the victory of good over evil. People of Goa and South India apply coconut oil to their bodies. It is believed that by performing this ritual they are freed from sins or impurities.
Today, during this festival in almost every city in India, all the public places are decorated with lights that show a celebration extravaganza.
Celebrations Around The World
Indians living in different countries also celebrate Diwali with as much joy and enthusiasm as people do in India. Celebrations occur according to their location, and they get together with friends and relatives, light candles & diyas, enjoy meals together, and prepare rangolis. They also perform Diwali rituals, exchange gifts, and celebrate with fireworks. In some countries, a proper cultural event is organized where all the people of the community gather at a hall and celebrate together. There are many Hindu temples in many other countries that also perform Lakshmi Puja during this festival.
Diwali, or the Festival of Light, is a  unique sight and joy to witness. It shows India's rich culture to help understand the country's history and traditions.