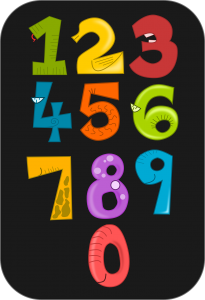 If there is one thing that we know about preschool-aged children, it is that they learn through exploring. Whether this means playing with a new object, manipulating items placed in front of them, or exploring a new texture, these kids learn best when they are challenged to engage with the things in front of them. Worksheets are usually not the best option for getting these preschool aged children to actively learn the material we challenge them with.
When it comes to math, we want our kids to develop number sense, problem-solving skills, recognize shapes, and finish patterns. This is a lot to ask of a 3 or 4 year old. However, all of these skills are necessary to build their foundation for successful math skills throughout their life. One way that we can encourage our children to build these math skills is to allow them to play some fun math-based games as they are learning.
In this article, we will explore some fun games designed to help preschool-aged children develop basic math skills that they need before entering school. All of these activities are designed to capture and hold the attention of your preschool-aged child.
Counting Bears "Twister" Patterns
Counting bears are colored bears that are often found in preschool classrooms and are used as manipulatives to help young children count or learn patterns. You could easily substitute counting bears with any color coded object (or printable) to help your child follow the pattern. In order to complete this activity, you simply print or draw colored patterns (blue, blue, red, red, blue, _____) and have the child complete the pattern with the manipulative.
Color Match and Count
Using color coded tape, tape a few squared to your floor. You could also use construction paper if you do not have colored tape. Pour out some pom poms onto the floor that match the colors you have selected for this game. Have the toddler sort the pom poms into the correct box, and them have them count how many of each color they were able to separate.
For an added level of difficulty, have your preschooler use tweezers to move the pom poms into the correct box. This will develop fine motor skills in addition to helping your child work on sorting and color.
Shape Patterns
This is an easy activity that can be thrown together without much material. All you need are some markers and paper. Create some cards using different patterns with shapes. (Star, heart, circle, star) Then, cut some manipulatives in the form of the shapes you need. Hand your preschooler the template, and have them mimic the pattern using the cut out shapes that you have created.
Feed the Monster
This is a really fun counting activity. If you want to be extra creative, you can have your preschooler help you build the monster in a craft. Use an old shoebox or tissue box to create a monster with an open mouth. Then, tell your preschooler that you have "feed" the monster to keep him/her happy.
You could feed the monster anything you have lying around. Whether you choose to feed the monster pom poms, cotton balls, or cheerios, have the monster tell your child how many he/she is hungry for. Then, the preschooler must count the number of items he/she feeds the monster in order to keep the monster happy.
Graphing with Sorting
Your preschooler is probably not going to understand the nuance and complexities that can be pointed out through certain graphing activities. However, your preschooler can participate and even understand some basic graphing concepts. Grab some toys that are sort of alike or similar but have easy-to-note differences (ex: cars, boats, and planes).
In the example I've outlined above, you would draw three lines because you have three different types of toys. Have your preschoolers sort the correct toys beside each other and line them up. You can have a conversation about how the tallest stack is the one that has the most representation. This will help your preschooler understand the basics of a bar graph without getting too technical.
Shape Wheel
The shape wheel is a really easy math game that teachers your preschooler basic geometry through recognizing shapes. Take a paper plate, or make a circle out of cardboard and draw various shapes on it. Then, take clothespins and draw matching shapes on the clothespins. Voila! You have created a shape wheel. Your preschooler can now practice sorting the shapes on the shape wheel.
Dice and Number Game
For this activity, you need a dice, and you need you manipulatives labeled one through five. Have the preschool student roll the dice and then match the correct written number to the number of dots on the dice. If you want to get even more creative, you could create a giant dice with your preschooler as an art project. Even more, you could further their understanding of geometry by discussing the cube shape of the dice.
Number Scavenger Hunt
This game can be done with balloons, but it really could be accomplished with any object numbered one through ten. Simply hide objects labeled one through ten throughout your home or classroom. Students must locate all ten objects, but the only catch is that they must find them in the correct order.
Parking Lot
If you have several hot wheels or small vehicles laying around your home, then you may consider creating a parking lot game. Simply draw a parking lot on a piece of cardboard, label each of the parking spots and then allow your child to "park" the cars in the correct parking spot.
Final Thoughts
No matter what math activities you choose for your preschool child to complete, the goal is similar. Your child needs to learn basic math skills in order to succeed in life. The games and activities outlined in this article are built to instill a sense of fun with the idea of learning and exploring foundational math concepts.