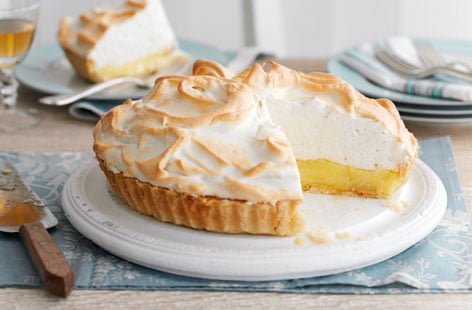 Lemon Meringue Pie Day
When life gives you lemons, you should not make lemonade, instead make lemon meringue pie. National Lemon Meringue Pie Day is an unofficial national holiday in the United States of America. National Lemon Meringue Pie Day is celebrated on the 15th of August.
Lemon meringue pie is a dessert pie that's constructed in three parts. The crust is a shortbread pastry crust, the filling is lemon curd or lemon custard, while the top is a delicate and fluffy meringue. The shortbread crust is prepared beforehand and is lightly baked before constructing the pie. The texture and taste should remind people of a light cookie. The lemon custard is a standard custard made from egg yolks, cream, sugar, and lemon juice. The meringue is constructed by beating the egg whites, cream of tartar, and adding sugar at just the right time to create a fluffy meringue. The baker will know when the meringue is ready because it will create stiff peaks. The meringue is then piped on the top of the custard filling and then the whole thing is baked until the meringue is lightly toasted.
Lemon custard has been around since Medieval Times and lemons were considered a way to help prevent scurvy and gum disease. Meringue was perfected in the 17th century in France and lemon meringue pies started becoming a staple in the 19th century. It is believed that the lemon meringue pie that we know today in America, originated in Philadelphia. Elizabeth Goodfellow was a pastry shop owner who operated the first American cooking school in the 19th century. Her signature dish was her lemon custard and one day she thought to finish her custard off with a top layer of meringue. This was a relatively new concept in the world of baking because of how tricky a perfect meringue is to accomplish. Lemon custards demand a lot of egg yolks and often the egg whites go to waste. Since the meringue only calls for egg whites, cream of tartar, and sugar, it seemed like a perfect solution to the waste problem. The product was a huge success and Goodfellow continued to top her custards with meringue. This resourcefulness led to a lemon meringue pie being created in America.
The best way to celebrate National Lemon Meringue Pie Day in the United States is to have a slice of delicious lemon meringue pie. Since this pie is a staple in American dessert cuisine it is available at most local bakeries and shops. The lemon meringue pie is also an easy pie to construct for anyone who has the time and patience. The hardest part of the whole recipe is perfecting the meringue to the right consistency. This is easily accomplished using an electric mixer though. Once the meringue is perfected, the lemon meringue pie can be made and enjoyed. On the 15th of August, pie lovers can rejoice by enjoying a slice of lemon meringue pie.