Set a party in motion and it becomes a parade, and there's no bigger celebration than the Macy's Thanksgiving Day Parade. Often cited as the largest parade in the world, every year, over 3.5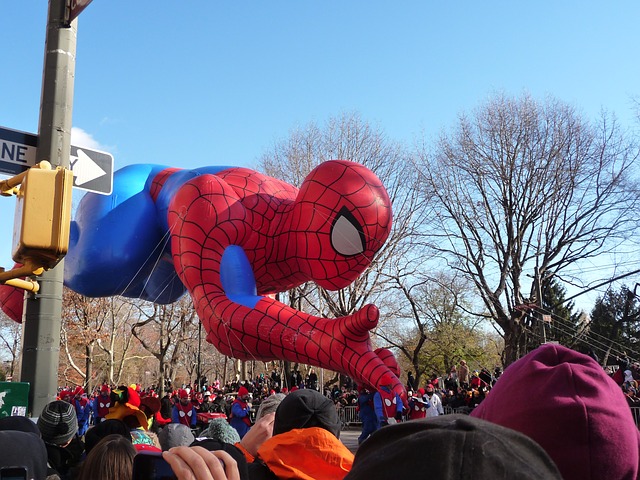 million of people line the streets of New York City to watch balloons of all shapes and one size (enormous!) march through the streets to live music. Meanwhile, the rest of America tunes in on TV while the turkey roasts in the oven. It's an irreplaceable part of holiday culture. However, to some people's surprise, the parade didn't start out as a Turkey Day parade.
History Of The Parade
The Macy's Parade got its start in 1924, when the store hoped to display the opening of its Herald Square flagship, which, at the time, boasted 1 million square feet of retail space. It is still often referred to as the "World's Largest Department Store." The original intent of the parade was to get people thinking about the holiday season and ready potential consumers for the incoming Christmas shopping spree. Fittingly, the event was originally advertised as a Christmas Parade.
Although the first parade had humble beginnings, it was incredibly well-received. Even Macy's didn't expect such a loving audience. "We did not dare dream its success would be so great," the store said in an advertisement the very next day, in which they declared that they would be hosting the parade again the next year.
Over the years, with growing publicity and scale, the Christmas Parade developed into the Macy's Parade Americans know and love today. However, traces of its yuletide roots remain, as Santa Claus famously sweeps in at the end of the parade, ringing in the Christmas season. The history of the parade balloons may also come as a surprise – in the original parade, the parade actually marched with live animals on loan from the Central Park Zoo. It wasn't until 1927 that they decided to replace the animals with the first parade balloon, Felix the Cat.
The beloved parade continued to develop and thrive, eventually being broadcast on a national scale. It was broadcast on national radio for the first time in 1932, and then continued onto its famous NBC broadcast starting 1939. Since then, the parade has delighted America every year, save for its hiatus from 1942 to 1944 for World War II.
Now, the Macy's Day Parade is a true celebration of American culture. With more than 8,000 participants every year. It represents the joint efforts of countless industries and a legacy of nostalgia. Celebrities and selected high schools join the parade alike to liven up the crowds, and children delight in seeing their favorite characters floating overhead. The parade that started as simple marketing campaign now firmly has a place in many people's hearts, as it brings Americans together for just three hours of joy on a day of gratitude.
This year will be the 95th annual Macy's Parade. For more info you can visit Macy's link: https://www.macys.com/social/parade/