Without a doubt, the best camping in California is found on public land. Like many other Western states, a large portion of California is owned by the Federal and state governments and is managed for conservation and recreation by outdoors people. It might sound crazy, but over 50% of California belongs to the public, and nearly all of that is available to camp on. This includes everything from high alpine mountains in Northern California, to rolling grasslands in the Central Coast, to islands and desert-scapes in the arid south. Whatever habitat and scenery you're looking for, you can find it somewhere in California's public land system.
There are a few general things you should be aware of with regards to camping out on public land, both in the planning stages of a trip and when you get there. Due to the widespread drought issues affecting entire American West, many places in California will have a ban on open fires in the hottest, driest months of the year. These are put in place each year based on conditions like rainfall, but you can usually plan on these "burn bans" being in effect from May-October of a given year. Avid public lands campers will often bring a propane stove or fire pit with them; this allows one to enjoy sitting by a campfire or preparing food, without running the risk of starting a catastrophic wildfire or violating the burn ban.
Anyone who is thinking of spending a few nights in the outdoors will almost definitely have some food and water with them, but it's always a good idea to bring far more than you think you'll need. With so much country and so many hardly-traveled roads, if you run into vehicle troubles or other issues, you might need to wait around a little for a helping hand. Safety is always the number one priority!
The Best Camping In California – Things To Keep In Mind
While you are out camping, it's important to recreate responsibly by leaving no trace. It's not uncommon for land managers to close day-use areas or campgrounds that are regularly used by irresponsible parties, and it's important to There are a few things to remember in order to leave your campsite better than when you found it.
Everything that you bring with you should also be packed out, including all trash you find. Yes, you read that right – all trash!
Don't drive off designated roads and trails. This can damage sensitive soils (especially in the desert) and other forms of habitat which take a long time to regenerate
This might go without saying, but vandalism of any kind can get a campground shut down quicker than lickety-split. If you notice another party doing something illegal, make sure you get in touch with a ranger right away.
By following these principles, and applying a little common sense, you play an active role in helping to preserve our public lands for future generations and ensure whoever sets up their tent after you will have a great camping experience, too.
National Parks
The National Parks system is known for offering memorable and scenic camping experiences for those of all comfort levels, and the Parks in California are no different. Most Parks offer a great mix of dispersed and developed camping. At the developed sites, you'll usually find a poured concrete pad, along with vault toilets, picnic tables, and fire rings. Some of the sites offer electrical hookups for recreational vehicles (RVs) and campers as well. The amenities at the dispersed camping locations can vary wildly. It's easy to find answers to any questions you might have about a given National Park – a quick call to the visitor's center will clear up anything you might want to know.
Additionally, each National Park will have its own section under the main website of the Parks Service, NPS.gov, which is constantly updated with all kinds of information, ranging from inclement weather to road closures, to fire information. Additionally, you can find maps, information on guided tours, wildlife, and campsites, and contact information about how to get in touch with a ranger.
One last word of wisdom – if you live close to a Park, or think you might visit a few Parks per year, it's a no-brainer to pick up an "America the Beautiful" pass for the price of $80. This credit card-sized pass will give you entry to any United States fee area for an entire year. You could visit a National Park every week, and all it would cost you is $80 a year. If you don't have an "America the Beautiful" pass, National Parks charge a fee of at $20 a vehicle for each Park. This can vary by location, so be sure to double-check ahead of time. You can buy the "America the Beautiful" pass at any entrance booth or visitor's center. There are also lifetime passes available for those aged 62 and older, as well as free passes to military members – just bring your Military ID with you.
The Campground Reservation System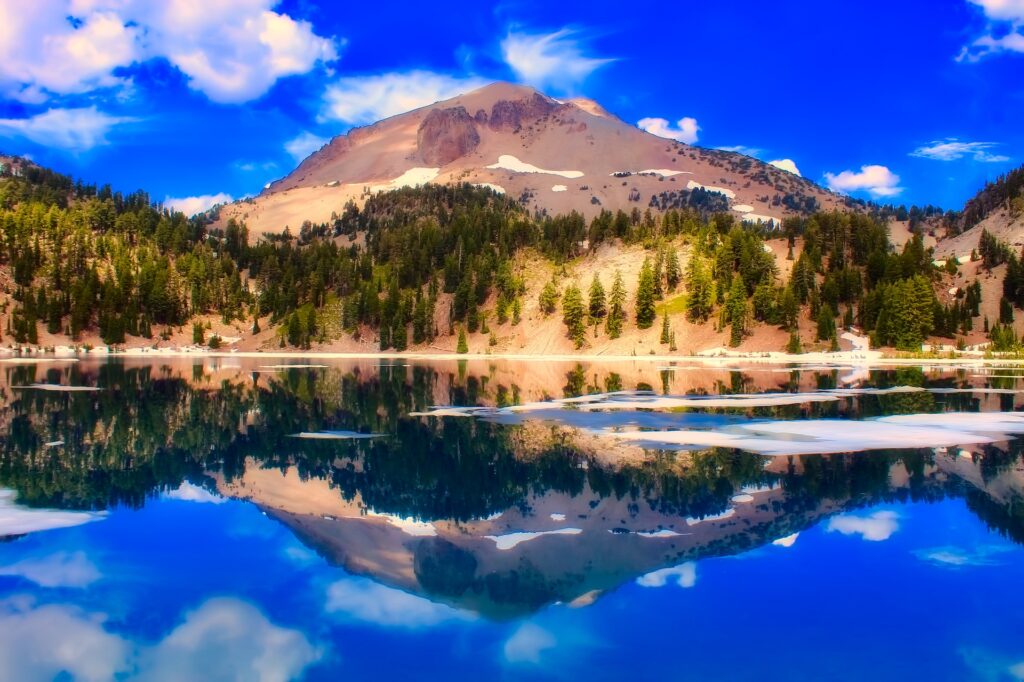 It's important to bear in mind is that many of the choice, sought-after developed campsites at National Parks operate on reservations. These include popular campsites like Furnace Creek in Death Valley, and the Pines campgrounds in Yosemite. It's not uncommon for some of these sites to be booked out close to a year in advance, so don't delay on making a reservation if the campsite you're after is available. You can find detailed information on Park rules and regulations, as well as cam
The nine National Parks (more than any other state in the country) scattered throughout California offer some of the best camping in California. In Southern California, you can check out Joshua Tree and Death Valley National Parks. Both offer campers the quintessential Mojave Desert experience where you'll see the iconic Joshua Trees, as well as other desert wildlife such as burros, golden eagles, quail, and a wide variety of snakes and reptiles. Both get extremely hot in the summer with temperatures regularly exceeding 110 degrees, so it's best to plan your trip camping trip during the cooler months. A quick call to the ranger stations will tell you everything you know about current weather conditions.
If more forested and mountainous scenery is what you're looking for, or simply just cooler temperatures, there are plenty of opportunities for world-class camping, hiking, and sightseeing at King's Canyon, Sequoia, and Yosemite National Parks. These are extremely popular destinations and can get quite busy, especially in the peak months of April-September. Make sure you have your campground reservations booked in advance! These Parks are also surrounded by tens of thousands of acres of National Forest (which we'll talk about below) for you to explore and enjoy. Once you visit, it's not hard to see why Yosemite is consistently ranked in the top 10 most-visited National Parks.
If you're closer Central or Northern California, you have some great options as well. Lassen Volcanic National Park is a hidden gem and one of the least-busy Parks. Its beautiful aspen- and pine-covered scenery features a multitude of unique and interesting volcanic landforms, including extinct volcanoes. It's moderate climate and relatively high elevation makes it a perfect camping destination to escape the dog days of summer.
Redwood National Park is another must-see, located close to the Bay Area. If you've ever wanted to camp on the forest moon of Endor, here's your chance. This incredible place was created to preserve the tallest trees on Earth, but most people don't know about the other things to do while you're staying here. You can fish for trout, take a rafting trip, and even go whale watching all inside the Park.
National Forests – Take a Walk on the Wild Side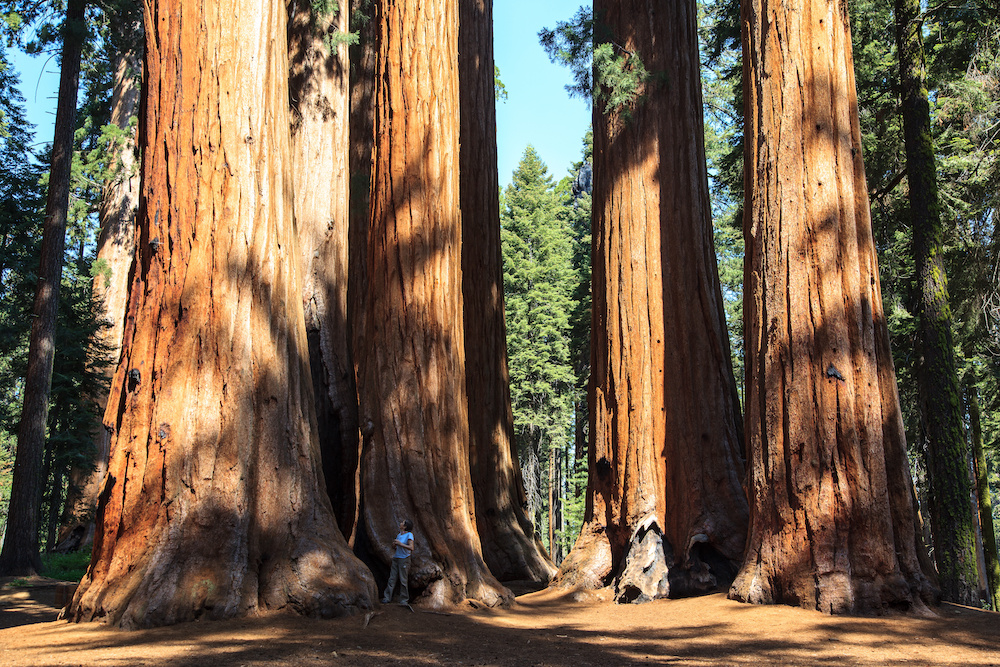 In addition to the well-traveled and -trafficked National Parks, you can find some of the best camping in California off the beaten path, on public land managed by the Forest Service or the Bureau of Land Management. Within the 20 National Forests located in California, you'll find opportunities to beat the crowds and enjoy the solace and solidarity of nature. Visitor traffic is usually fractions of what National Parks receive, so you might consider checking out a National Forest campground for quick getaways that don't need to be planned months in advance. In addition, you'll often find tremendous opportunities to enjoy the great fishing that California offers, as well as horseback riding, hiking, kayaking, rafting, and wildlife viewing.
Camping in National Forests
One of the upsides of camping on National Forest land is the availability and choice of campsites. You'll usually find the same mix of dispersed sites and developed sites that you would in a National Park, only there are more of them, and they are more spread out over a wider area. This helps to cut down on congestion and reduce the amount of planning and preparation needed for a trip into the wilderness. Very similar to National Parks, some developed sites, usually those focused more towards group camping, require a fee for use, or a reservation, or both. Thankfully, the Recreation.gov website is there once again to tell you everything you need to know.
Camping in Designated Wilderness Areas
If you are the ultimate outdoor person, you might be tempted to strap on a pack, lace up your boots, deploy your trekking poles, and hit the trails in one of California's many (and beautiful) designated Wilderness areas. These are spelled with a capital "W," because Wilderness is a specific legal designation of some very special land. These are the choice areas that receive the maximum number of protections from human habitation – where man is meant to only visit, and not remain. Perhaps the most important thing that separates Wilderness areas from other types of public land is a prohibition on any kind of mechanical travel. This includes offroad vehicles, dirt bikes, and even ordinary bicycles. This high level of protection means that Wilderness areas are the most pristine and untouched landscapes you can find, and means they can be a little more challenging to get to, and navigate around, than any other area. Thankfully, there are some more well-known areas to whet the teeth of any intrepid adventurer, and there is none grander than the John Muir Trail.
California's Most Scenic Trail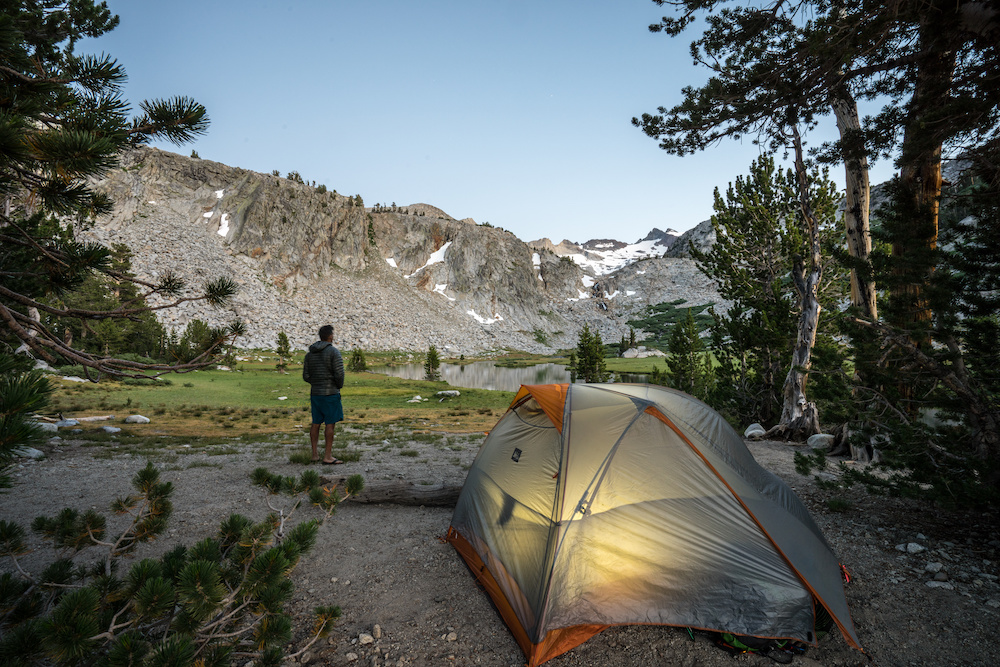 Of all of America's hiking trails, the Appalachian Trail on the East Coast is perhaps the most famous. However, the scenery there can't hold a candle to the crown jewel of California's trail system – the John Muir Trail. Named after a legendary conservationist who was critical in the preservation of the Yosemite region, the "JMT," as it's called, cuts through 211 miles of the high alpine Wilderness in the Sierra Nevadas. If you're looking for a multi-day camping adventure that will give you a lifetime of stories, this is it. You'll see the most scenic places in the world – the John Muir Wilderness and the Ansel Adams Wilderness – as they appeared hundreds of years ago, unscathed by humans. You'll also pass through Yosemite, Kings Canyon, and Sequoia National Parks, and up the summit of the tallest mountain in the lower 48, Mount Whitney. This is a great opportunity to see these areas without the throng of tourists and sightseers that are usually impossible to get away from and to spend about three weeks in the solitude of America's most beautiful Wildernesses.
If you'd like to hike this trial, you'll need a permit, which you can either reserve ahead of time, or get lucky and obtain one as a walk-in.
Gear Up
Before you take on a challenge of this magnitude, it's important to have your gear squared away and to be prepared for what you might face. As most of the JMT lies above 8,000 feet in elevation, weather becomes much more of a consideration. Huge temperature swings between night and day are very common, and it can snow nearly any time of the year. Dress in layers so it's easy to strip down or bundle up as the temperatures change. Make sure your boots are well broken in, and that you have a few pairs of wool socks to keep the blisters away and the odor down.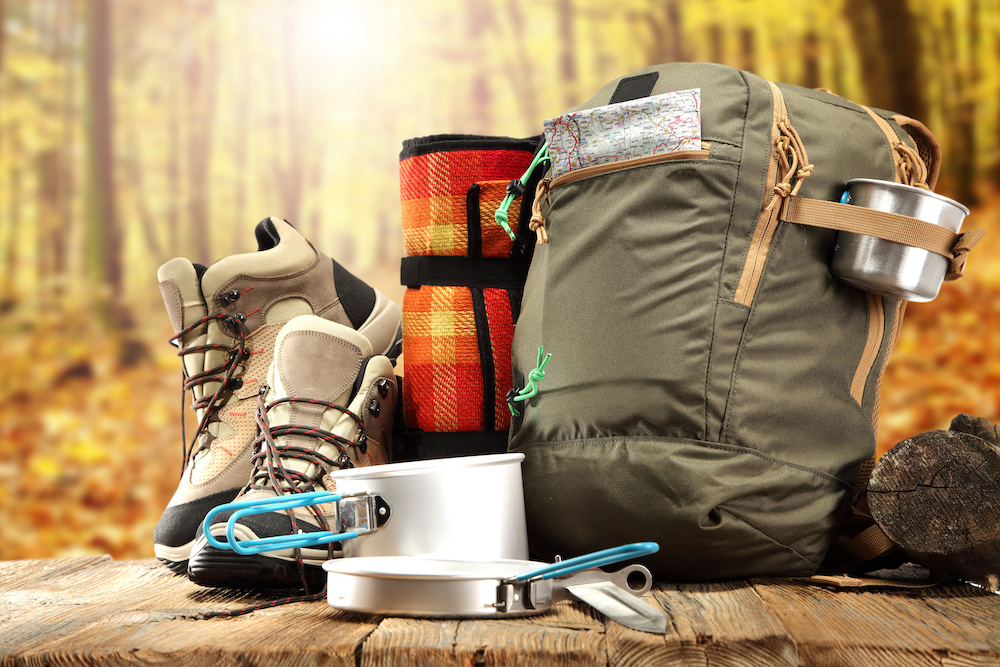 As far as camping gear, you'll need to make sure that whatever equipment you take with you on the JMT is tough and lightweight. A down sleeping bag packs smaller than a comparable synthetic bag, although it must be kept absolutely dry or it will lose its ability to insulate. For those who might really want to shed some ounces with their tent, a floorless system could be a good option, although any quality backpacking tent should really do the trick. Hammocks are great too, but might not be the ticket for a hike like this that spends so much time above the treeline.
Another critical piece of kit you'll need for camping is an approved bear canister, to deter theft of food and toiletries from the local bear population. It's important to remember that anything scented that could attract Smokey should be put in the canisters, including wipes, toothpaste, and lotions. If you're thoughtfully following bear safety best practices, there's no need to be worried about close encounters; bears have a keen sense of smell, and usually high-tail it out of an area at even the smallest whiff of a human. Just make your presence known by making noise, secure your food and toiletries, and don't come between a mama and her cubs, and you'll do just fine.
Safety First
Whichever of these adventures you might choose, it's important to be prepared and safe while you experience the joys of camping in California. Always let someone know where you're going and when you plan to return and make sure you bring extra food, water, and supplies in the event of an emergency because you might not always have service in some of these remote places. It's also a good idea to bring an extra spare, and to know how to change a tire – there are some rough, rocky roads out there! And, as a last resort, a satellite communicator will allow you to call for help if you need it, or simply just send your friends and family a quick text while you enjoy the beauty of nature.
There's no better state to live in if you enjoy the great outdoors than California. Between its mild climate (well, not counting the Mojave Desert…), huge swaths of public land and tremendously varied scenery, California has something for everyone, of all comfort levels. Next time you need to unplug a bit, head out to Stanislaus National Forest and find a great dispersed camping site. Or, take the family down to see the lowest place in North America in Death Valley National Park and stage your RV in the Furnace Creek Campground.
Spend some time looking at maps, getting a lay of the land, and understanding the rules and regulations of the places you'd like to visit. An ounce of planning can save you a pound of headaches out in the field. Consider if you'd like to car camp, or strap on a pack and head out into the backcountry like the through-hikers on the JMT. Bring your fishing pole or your kayak to enjoy during the day, and always be sure to double-check if there are any fire restrictions in place.
And here's the kicker – if you have a love for camping in California, take someone to one of the places above so they can experience it for themselves. Maybe someone is curious about camping but was never shown what they would need or how to do it safely. Be that person who shows them what the best camping experience looks like! Because after all, the best camping trips you'll take are the ones you'll be able to share with friends and family decades from now. Get out there and enjoy what California has to offer!