Memorial Day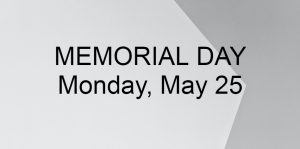 The United States celebrates Memorial Day annually on the last Monday of May. Also known as Decoration Day, this holiday honors those who have died during military service for the United States. It is casually considered the start of summer.
Most celebrations take place at cemeteries, especially United States National cemeteries, which usually contain military personnel graves and sometimes their spouses. Well known National Cemeteries include the Arlington National Cemetery outside of Washington D.C., the Golden Gate National Cemetery in California and the Fort Snelling National Cemetery in Minnesota.
There are many traditions that Americans honor in commemoration of Memorial Day. They may fly the American flag, visit memorial cemeteries, and place flags in the graves of fallen soldiers. Also, many observers decorate the military graves to honor them. Despite this theme, many celebrations are joyous in nature, such as picnics, fireworks, concerts, gatherings and parties, memorials, and attendance of professional sport games. Many citizens retreat to vacation spots for the weekend or hold barbeques. Most schools and offices will shut down in commemoration.
A famous Memorial Day ceremony takes place at Gettysburg National Park every year since 1868, featuring a Memorial Day address. At the park in 1913, both Union and Confederate veterans gathered for the 50 year anniversary of the Battle of Gettysburg.
Other traditions include raising the flag to full staff and then lowering to half-staff, then raising it again at noon. This is symbolic of raising the soldiers' memory. In Washington D.C. on the capitol's west lawn, the National Memorial Day Concert is held, which is broadcast on PBS and NPR. Parades are held in small and large cities alike, which feature marching bands and a procession of servicemen and veterans. The Indianapolis 500 is held in honor of Memorial Day along with the Coca-Cola 600. Another popular event is the Memorial Tournament, a golf tournament held in Ohio.
Memorial Day Origin
Inspired by the Southern practice of honoring dead soldiers, Memorial Day began as an effort to give Union soldiers the same commemoration. Many memorial commemorations were held at the local level. Another earlier celebration was a May Day ceremony held in 1865 in Charleston, South Carolina, where many Union prisoners of war were buried in unmarked graves. A group of freedmen, including schoolchildren, cleaned and decorated the burial ground and then held a memorial ceremony. In 1866, a committee in Waterloo, New York organized a decoration of Union veteran graves, which took place on May 5.
In 1868, General John A. Logan proclaimed a national and annual observation of "Decoration Day" on May 30. That first celebration featured events in 183 cemeteries throughout 27 states
The holiday was changed to include all service men and women after World War I. It became known as Memorial Day over Decoration Day after World War II. The date changed from May 30 to the last Monday in May in 1971 in order to have three day weekends.
The difference between Memorial Day and Veterans Day is that Memorial Day honors those who had died while Veterans Day is a celebration of all Veterans.
Fallen Soldiers by Numbers
The war with the highest number of U.S. casualties goes to the Civil War, considering both sides consisted of Americans. Union losses numbered around 364,511 while the Confederate forces lost about 312,000. World War II recorded about 405,399 lost soldiers and World War I around 116,000. The Vietnam War took 58,209 soldiers and the Korean War lost 36,516. America's first war outside of British command, the Revolutionary War, took about 25,000. The more recent War on Terror, which combines Afghanistan and Iraq numbers, has recorded 6,518 deaths so far.
Soldiers who were wounded or died while in service after April 5, 1917 are awarded the Purple Heart. The award was previously only given to certain individuals by the President.
The United States Military
Fallen soldiers from all branches of the military are honored on Memorial Day. The branches of the United States military include:
The Army, who enlists over 500,000 active personnel. It is not only the largest but the oldest military branch. It is the main military force, as the army specializes in land defense.
The Navy, which contains 317,464 active personnel. This branch is in charge of naval warfare and defense of U.S. territories via sea. The U.S. has the largest Navy in the world, having a fleet that is larger than the next 13 largest navies in the world.
The Marine Corps, with 195,000 active personnel, is a component of the Navy and specializes in combined-arm tasks, which may include forces on land and sea. The marines develop high-level naval bases and often use ships to transport planes and ground units to a hostile source, allowing for an airplane runway close to the site of interest.
The Air Force, with about 332, 854 active personnel. This branch is in charge of aerial warfare and other airborne military services. The Air Force began as part of the army but was established as a separate branch in 1947, making it the youngest American military branch.
The United States Coast Guard is unique in the way that it has a maritime law enforcement, which means that it holds its own jurisdiction in domestic and some foreign waters. The Coast Guard is a multi-mission service that focuses on maritime safety.

When Is Memorial Day?

It's Important to remember that memorial is always on the last Monday of May, so it's safe to say Memorial Day will always be on a Monday unless there is a date change that takes place. Below is a list of dates for the next 5 years Memorial Day will fall on after 2020. 
May 25, 2020
May 31, 2021
May 30, 2022
May 29, 2023
May 27, 2024
May 26, 2025