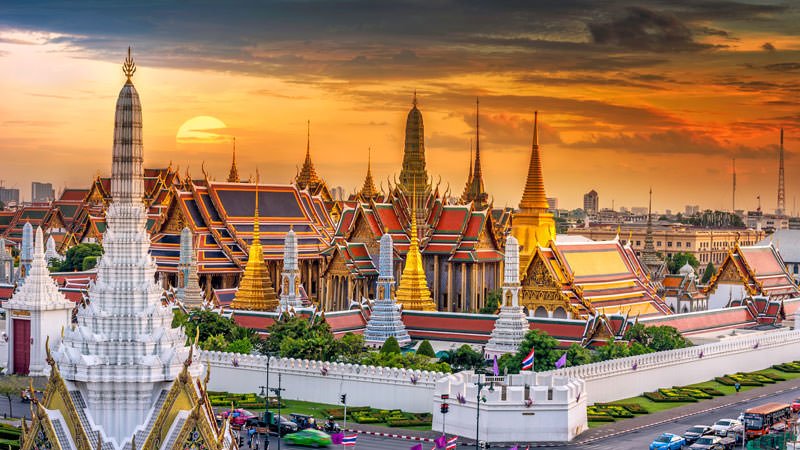 Visit Thailand
Visit Thailand: Exploring the City of Bangkok
When people think of traveling to Southeast Asia, the one country that probably pops to mind is Thailand. Thailand is one of the most popular countries in Asia, drawing visitors from all over the world, daily. The weather, the people, the sites, and even the many islands that you can explore can give you an experience that is specific to the Thai culture you may have heard about or been wanting to experience. With all the cities that are available in Thailand, Bangkok is probably the most well known.
Bangkok populates more than eight million people and its population is booming with new people and tourists coming, daily. Located in the southern region of Thailand, there is lively activity that brings excitement to every moment here. You will notice that Bangkok has many elaborate shrines and busy street life. When you come to this city, be prepared for the warm weather, as well. It can get a bit hot with the humidity. Yet, what is there to exactly see in Bangkok?
When you come to this city, be prepared to get out your walking shoes. There are many things to see. The most popular shrines and temples to see start with Wat Arun. This temple sits riverside and also holds a beautiful shrine. This is one of the most popular sites for spirituality and for visitation in Bangkok. There is also the Wat Phra Kaew. This site has a sacred shrine that holds the Buddha highly and you will find many devoted people coming here for renewed hope. This is also a popular site that contains Thai culture of religious tradition. Wat Pho is another site that holds deep structure, shrines, and a religious area for temple visitors. With its large popularity, you may want to come here early or make sure you have enough time at this temple.
There are other sites of religious background that you can visit in Bangkok. You may have heard of the golden Buddha. This is a beautifully crafted statue that is said to hold a deep representation of the Buddha's wisdom. Every temple and shrine in Thailand has religious roots that dive deep into the history of past tradition and they are waiting for you to visit. You may notice they can get crowded with visitors as well as religious followers, so make sure to be respectful when you go to visit. Beyond the temples, make sure to check out the Grand Palace. This palace was built in 1782 and is the official royal residence in this town and it sits in the heart of Bangkok.
If you head on over to Thailand, make sure to check out Bangkok. This city is filled with deep culture that represents what Thailand values. Every temple, palace, and street is filled with some exciting adventure and it should not be missed out on.
Visit Thailand: Bangkok Activities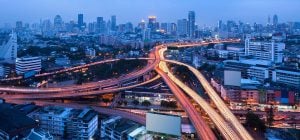 When you go to Bangkok, you may become overwhelmed with the amount of activities that are available. In fact, you may want to even schedule your days and time in this city based on what you want to see. There are many areas for tourist sighting, food, exploration, and even relaxation. Yet, where exactly should you go in Thailand and what is there to see beyond the amazing temples and palaces?
Starting with Khaosan Road, you can explore the street life of Thailand. This street is quite short, but has amazing nightlife and is popular with backpackers. You can get good food, beer, and an amazing time on this street. It is known by many tourists and locals. Yaowarat Road is another area that is popular in Bangkok. This area is in Chinatown and is known for artery. In fact, if your in the area of Chinatown, it is suggested to explore. There are many different shopping areas to see and you can get amazing deals in this cultural haven. If you want to go further with shopping, there are many malls in Bangkok to explore that are quite intense with every store you can think of, known and unknown. There are places like Central world and the MBK Center. Most of these malls are near each other, so bring your walking shoes or you can use public transportation. Bangkok also has many markets for shopping to explore, from night ones to day ones. It is suggested to see if they are occurring when you are in town and check the times as well.
If you want to experience nature while you are in Bangkok, there are a few parks you can check out. Lumphini Park offers a nature area for relaxation and exploration. There is even a lake that you can enjoy. You may also want to look at King Rama XI Park, which has areas for relaxation, jogging, and beautiful nature. Although Bangkok is a busy city, it is also one that should be used in enjoyment. In fact, something that Thailand is very much known for is massages. After the long days of walking around and visiting sites, it is highly recommended to get a foot massage or if you are feeling extravagant, a full body massage. If any country knows how to do this, it would be this one and massages are extremely cheap here.
When you are in a city like Thailand, you want to get everything you can out of this country and finding the hidden spots for shopping, relaxation, and tourist sighting will make it all worth it.
Visit Thailand: The City of Chiang Mai
When you head to a place like Thailand, you will notice that there are many places to explore. From the large cities to the small ones and to everything in between, there is something about this country that is filled with culture that radiates. Beyond Bangkok, Chiang Mai is the other large city that is extremely popular to visit and it is located in the Northern region of Thailand. This city was founded in 1296 and was the capital of the Lanna Kingdom until 1558. Yet, what is the city of Chiang Mai now?
Chiang Mai now holds the past religious Old City of Chiang Mai in reserve. When you visit this city, you will see the remaining moats, walls, and religious roots that remain from the old times that this city held. The cultural passion of Lanna Kingdom is still held high, today. If you want to explore the religious aspects of Thailand, you will want to head up to Chiang Mai. This city has many Buddhist temples that are quite elaborate and historically rooted. Yet, when you are in Chiang Mai, what is there to see?
Starting with the many elaborate temples, you will want to go and explore Wat Phra Singh. This Buddhist temple is restored from the 14th century and is a well-known religious temple. There is also Wat Chedi Luang, which is a temple that is known for its ruined chedi. You may see many Thai people coming to this sight, daily, and you will also feel the religious roots that remain alive through this country. Finally, you will want to go and visit Wat Phra That Doi Suthep. This site is a sacred temple to many Thai people and holds the storied white elephant. These are just a few of the amazing sites in this grand city and it is recommended to explore more, if you have the time. Yet, what else is there besides the temples of Chiang Mai?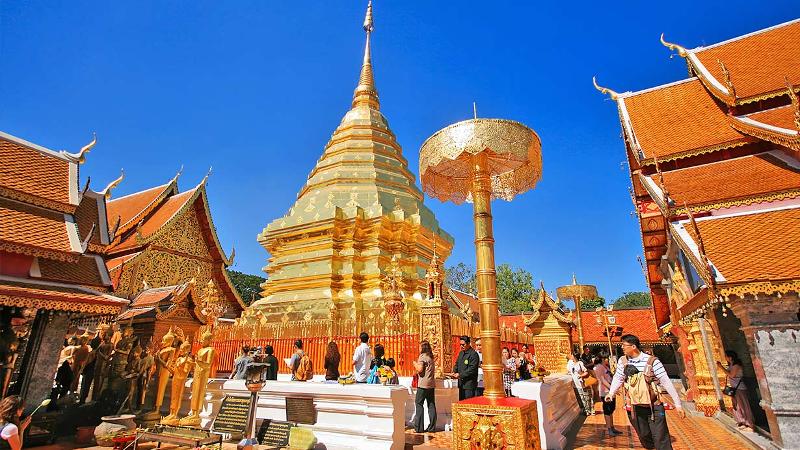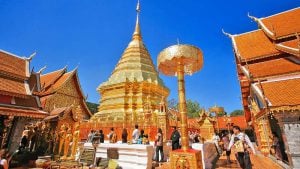 Many people head up to Northern Thailand to spend time with the beautiful creatures that reside up past Chiang Mai. The Elephant Nature Park can give you an extraordinary experience within the rescue center in Thailand through tours, interactions, and feeding these amazing animals. If you have time and a chance to visit this place, it is recommended as it is a highlight of this country that most come to see. There are also many night markets, shops, and restaurants to explore on the outskirts of this city. Every place you go to in Chiang Mai will give you an experience you will not forget. If you want to really experience the culture of this country, you may also want to hop on a Red Truck or a tuk-tuk when you are traveling around.
Chiang Mai has many sites to explore and takes you into the deep culture of what Thailand is all about. The people are friendly, the restaurants and shops are amazing, and the experience you will recieve is monumental. If you can make the journey up to this Northern region of Thailand, it is highly suggested. It may be the most popular city within this country.
Visit Thailand: The City of Krabi
When people travel to the beautiful country of Thailand, they may have a long list of activities they want to take part in. Most times, people want to see the beautiful and large cities that Thailand is known for, experience the delicious food, and of course, head on over to the beauteous islands that exist in this country. Yet, before people drop large amounts of money to hop on a ferry that travels over to the many islands that exist in Thailand, people will spend part of their vacation in the city of Krabi.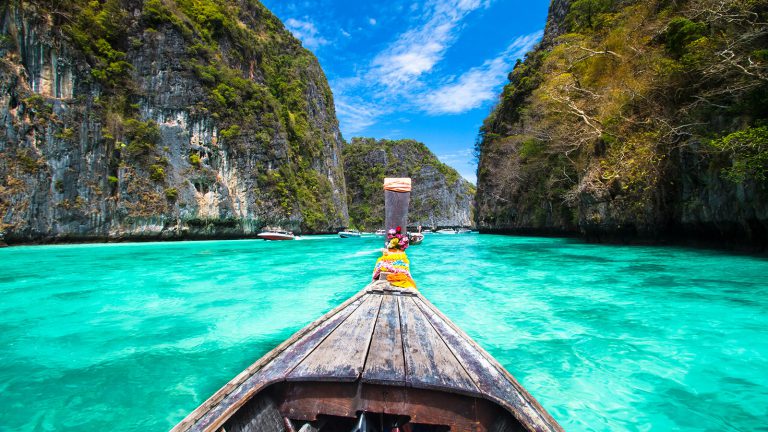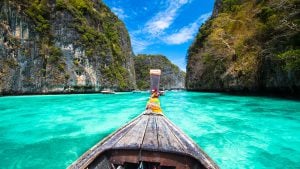 Krabi is located more Southern than most cities in Thailand, and has many beautiful attractions for its visitors. This west coast city is surrounded by high cliffs and beautiful rocks on the amazing coast. You will find lush mangrove forests, beautiful waters, and an opportunity to head out on a longtail boat to the many islands that surround Krabi. You can go for the day, for a few, or even just for a couple of hours. Krabi has many places for accomodation, food, and exploration. You may find that many tourists will come and spend time here, take ferries and travel out from this location, and they will, also, spend the time enjoying the sea.
When you are in Krabi, a common day time activity is snorkeling, shopping, and relaxing in the sun. A few islands that people hop on over to for the day are the spots at Railay Beach and the Phi Phi Islands. Railay Beach is extremely popular because there are clear waters, a relaxing atmosphere, and is a great spot for rock climbing. Once you are over at this beach, you will see many advertisements for rock climbing as well as rock climbers hanging off of the many limestone cliffs. If you want to stay on Railay beach, there is that option as well. Yet, most poeple do not do this because of the price compared to what Krabi offers. Thailand, as most know, is known to be relatively cheap.
Back in Krabi, you will find food of all cultures, people of all types, and adventures of all kinds. There are advertisements up and down the streets of this town for tourists and locals. You will, also, have availablility to draw out money, if you need to. Krabi is a small town in Thailand, but it has everything you need. If you get a chance to visit this region, it is highly suggested. It will keep you close to the mainland of Thailand, but will, also, let you adventure out and explore the oceans of Thailand.
Visiting Thailand: The City of Chiang Rai
Thailand has many large cities from the southern end to the northern end. If you get a chance to visit them all, you will become quite the expert in Thai culture. In fact, every city in Thailand has its own specific atmosphere for each province. When you head up to the Northern region of Thailand, you may be thinking you are going to just visit Chiang Mai; yet, if you keep going, you will hit Chiang Rai. Chiang Rai is the largest city in the Northern region of Thailand.
This city sits at 1,280 feet high in elevation and populates up to 70,000 people. It was founded in 1262 as the capital of the Mengrai Dynasty and you may even notice during your visit the resemblance to the Lanna identity, even though times have changed in this region. There are visitors that come to this area of Thailand throughout the year, despite the raises in heat and humidity. The province of this city, which is Chiang Rai, sits quite close to the borders of Laos and Myanmar. Here in Chiang Rai, you will find many glorious sites that visitors and tourists come to see.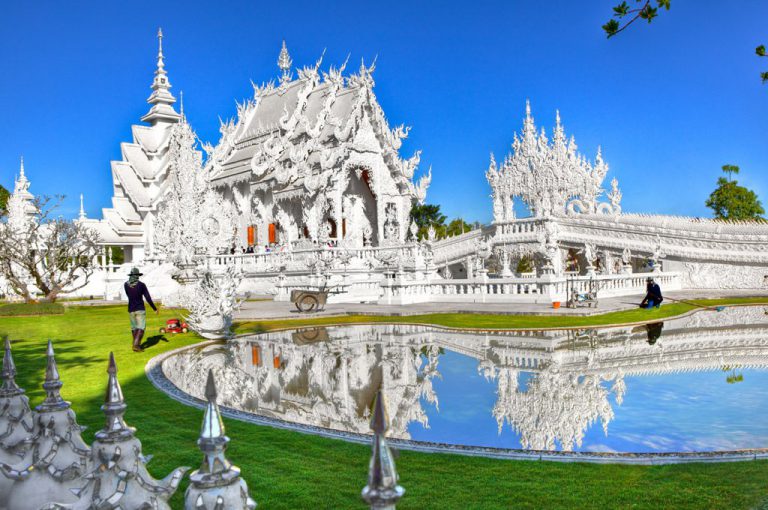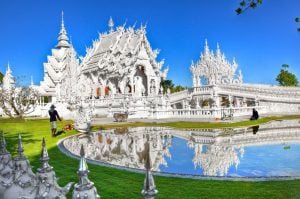 Starting with the elephant sanctuary, most will travel up from Chiang Mai to see the beautiful creatures for a day or a few. You can volunteer at the elephant sanctuary or you can just take a day trip to explore. Secondly, people come to this region of Thailand to see the Wat Rong Khun temple. This temple is quite popular in Thailand and people will spend time in this city just to visit this site. This temple is all white and today is more known as an art exhibit over a religious temple. It is absolutely beautiful.
Chiang Rai does have entertainment, nightlife, and great restaurants. You will also be able to find a hotel to stay at while you are in this city. You can find luxury hotels along the water. Yet, it is important to know that this city is calmer than most areas of Thailand and diversity is not huge here. If you get a chance to come to this city, you may also want to check out the Night Bazaar, the Jazz Festival, or the Saturday Walking Street. If you want to explore the river banks, you can hire a longtail boat to take you out on the Mae Kok so you may slow down and enjoy the riverbanks.
Chiang Rai is a place for beauty, culture, and a chance to enjoy the slow life of Thailand. When you are planning your trip to Thailand, try and make a stop up in this Northern region of Thailand.