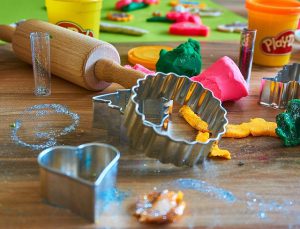 Preschool-aged children are a lot like sponges. They are constantly absorbing all of the information that surrounds them. There has actually been a lot of research conducted about the various methods through which preschoolers learn best. The vast majority of that research agrees on one common fact: preschoolers learn best when they are actively engaged in play with the material they are learning.
So, what does that mean for the people who are planning their learning activities? It means that preschool-aged children should be offered activities that mimic the way they play in their free time. This means that all learning activities should be built around manipulatives, movement, and language in a way that preschoolers can understand.
In this article, we will explore activities geared toward language arts development at the preschool age. Language arts is essentially the development of literacy at the earliest stage and this includes reading, writing, and even spoken language. While there are a variety of ways to teach language arts, there is no single right way. In this article, we will simply explore ideas for activities that will promote literacy in the preschool-aged child.
Using Play-dough to Cut Letters
Preschool aged children love to use items that have various textures and consistencies. In fact, research shows that when exposed to multiple types of sensory input, a preschool-aged child will be able to withhold information better with what they are learning. With that in mind, simply using a resource like playdough can significantly increase the effectiveness of a lesson for a preschool-aged child.
Grab some play dough and purchase some alphabet cookie cutters and let the kids go to town. As they use the cookie cutters to stamp letters into the dough, you can have conversations about each of the letters they are choosing to stamp.
Alphabet Magnets
Alphabet magnets are a great tool to have to lie around for both the preschool teacher and the toddler mom. Try letting your toddler explore the alphabet magnets that you have stuck to a cookie sheet. You can let older toddlers practice picking out letters as you call out the sounds. For younger toddlers, simply let them explore the alphabet freely on the cookie sheet.
Story Time
https://wilstar.com/wp-admin/profile.php
Reading is the number one activity that both parents and teachers agree develops literacy skills far beyond any other activity. Choose a daily time to sit down and read a story with your preschool-aged children. Use that story as a springboard for conversations surrounding the story, theme, or even a letter that can be discussed based on the story you read.
Letter Themed Sensory Bins
We have already discussed how sensory bins can be a great tool for building your child's literacy skills and enhancing their curiosity and development. There are a few ways to achieve this type of activity. Some parents and teachers make sensory bins out of simple tools like sand, water, beans, or even beads. You can simply add some letters into any one of these sensory bins and allow a toddler to explore them.A twist on the basic sensory bin outlined above is to create letter-themed sensory bins. For example, you may have a sensory bin filled with beans and add to that bin a cap, a stuffed cat, a car and a candle. You could do this and tape the letter "c" to the outside of the bin. You could also allow an older or more advanced preschool student to guess the letter theme of the bin based on its contents.
Sound Match Snowball Fight
Activities that work on more than one skill are always activities that can be valued by both educators and parents as they begin to develop literacy skills for preschool-aged children. This activity requires very little preparation, but it develops both coordination and literacy skills in preschool kids.
Prepare for this activity by taping an alphabet to a blank wall and purchasing some ping pong balls (snowballs). Call out the sound that one of the letters makes. The preschooler must throw their ball at the letter that matches the sound. This could also be done with less advanced students with simply matching the name of the letter to the letter in written form.
Sensory Bags Tracing Activity
Another great sensory activity that promotes literacy is using a no mess sensory bag. Take a Ziploc bag and fill it with a see-through substance such as hair gel. You can place the bag on top of a piece of paper and have the toddler trace letters in the hair gel. This is a great sensory activity as well as one that can be used over and over again for various letters and numbers to learn how to write them.
Alphabet Blocks
You can purchase alphabet blocks, but you could also use a sharpie to write the letters on blocks that you already have. This is a great activity for putting the alphabet in order, learning to spell different words, or just for matching lower case letters to their proper upper case letter. The options for ways to utilize alphabet blocks are truly endless.
Alphabet Beads and Pipe Cleaners
Another dual function literacy idea is having preschool kids lace alphabet beads onto pipe cleaners. This is a great activity for children to help them develop fine motor skills. Further you can use this activity to have them sort letters, spell things, or simply discuss the letters they pick up as they go.
Final Thoughts
The possibilities for language arts activities with preschool-aged children seem endless. There is a lot to learn at this young stage in life and preschool-age kids are actually quite eager to learn it which makes the teacher's job a bit easier. The key to creating an engaging and rewarding preschool activity is to make it as hands-on as is physically possible. The more skills you can cover in each activity, the more productive and enjoyable that activity will be for the students who are participating.