What is a pst file and How To Create a PST File
Microsoft Outlook stores its emails and other items in something called Outlook Data Files (PST). These files store user contacts, emails, calendar events, and journals along with other data based items. These PST files are only accessible through Outlook configurations to which the data is saved on. Luckily, you can transfer those files to an alternate system or portable device like an external hard disk.
From the Inbox, select
Enter File-name
To add a password
Select [OK].
Type a password in both the Password and Verify Password text boxes and select [OK] again.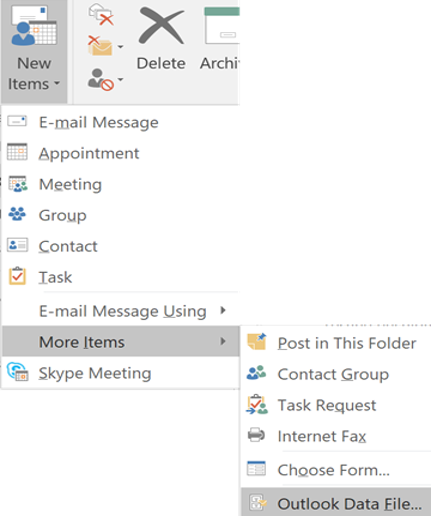 If you decide to set a password, you must enter it every time you choose to open the data file.
For example, this will be necessary when you open Outlook or when you decide to open the data file located in Outlook.
Create a new Outlook data file
Further information can be found on the Microsoft website here: https://support.microsoft.com/en-us/office/create-an-outlook-data-file-pst-to-save-your-information-17a13ca2-df52-48e8-b933-4c84c2aabe7c#:~:text=On%20the%20File%20menu%2C%20point,file%2C%20and%20then%20choose%20OK