Smartphones and tablets have become must haves for tech enthusiasts and everyday consumers, but in recent years wearable technology has become the new trend in personal technology. Companies across the globe have committed to creating these intelligent watches for those looking to keep track of their fitness and health, or even just for easier access to their smartphone data, messaging, and calls. Smartwatches are, to some, a necessary piece of technology that makes life a bit easier.
The only problem was, at one point, they were only created for adults. Now as children are becoming more fascinated in tablets and smartphones, they are also fascinated in smartwatches due to adult influence. Thus, companies had to come up with the perfect solution. They began creating kid friendly smartwatches with special features and specs that were specifically created for the interests of kids.
Although kid friendly smartwatches may not be exactly like the smartwatches adults wear, they do offer great specs that would entertain kids, and at the same time be safe for them. Mostly kids just want what adults have, and to be just like the adults they look up to is just inspiring and great for building character and enthusiasm.
As parents learn of these kid friendly smartwatches, they would begin to wonder how safe and durable they may be, and what kind of options they may have when shopping for one. Well there's no need to search high and low for the right choice because listed below are six of the best smartwatches a parent could buy for their kids.
1. Vtech kidzoom (series DX and DX2)
~Best for apps and games~
The Vtech kidzoom smartwatch series offers a large number games and apps to entertain any kid with a 2 week battery life. This smartwatch has the ability to take photos and videos with the two equipped cameras, and 50 clock faces to suit any kids taste. The only downside to this watch is that it isn't waterproof and it doesn't have GPS tracking for parents.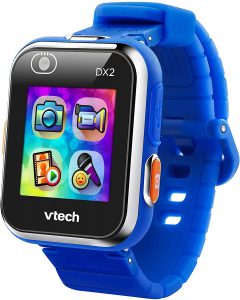 Check Price on Amazon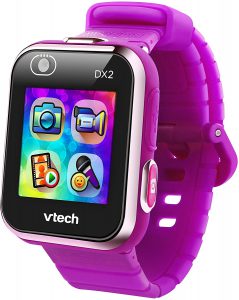 Check Price on Amazon

2. Fitbit Ace and Fitbit Ace 2
~Best for fitness tracking~
Fitbit Ace and Fitbit Ace 2 are fitness tracking devices, which is great for parents to keep track of their kids activites during the day. Thus smartwatch is, in fact, water resistant with a battery life of 5 days. Unfortunately, the Fitbit Ace and Fitbit Ace 2 does not have GPS tracking.
3. Kurio watch 2.0
~Best for messaging~
The Kurio watch 2.0 is equipped with 20 pre-loaded apps and games, and an integrated camera for photo and videos. This watch has a battery life of 3 days. The durability is limited with no water resistance, and it does not include GPS tracking.
4. Verizon Gizmo
~Best for GPS~
The Verizon Gizmo is a service based kids smartwatch with two-way communication (voice and messaging). It has GPS tracking and it is water resistant.
5. Garmin Vivofit Jr. 2
~Best for Durability~
The Garmin vivofit Jr. 2 is water resistant with a battery life of a year. It is also equipped with themed activites to keep any kid busy.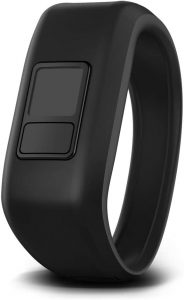 Check Price On Amazon

6. Leapfrog Leapband
~Best for development~
The leapfrog Leapband has developmental apps and games. Along with parental control and screen time limitation. This watch is water resistant with a battery life of 3 to 4 days. It does not have GPS tracking.
This list maybe of some definite help for parents looking to purchase a smartwatch for their son or daughter. While most of the watches provide entertainments such as apps and games, not all of the watches provide a certain security feature that most parents would look for first when buying their child a smartwatch, and that is a GPS tracking system built in. The Verizon Gizmo and the Tencent kids watch are the only two in this list that offers that feature. As for durability, which is another concern parents would most likely have, The Fitbit Ace/ Ace 2, Verizon Gizmo, The Garmin vivofit Jr. 2, The Leapfrog Leapband watch are all water resistant, which is a great spec esspecially for playful and adventurous kids.
Hopefully after going through these buying options, any parent seeking to find the right smart watch for their kids would have successfully done so.