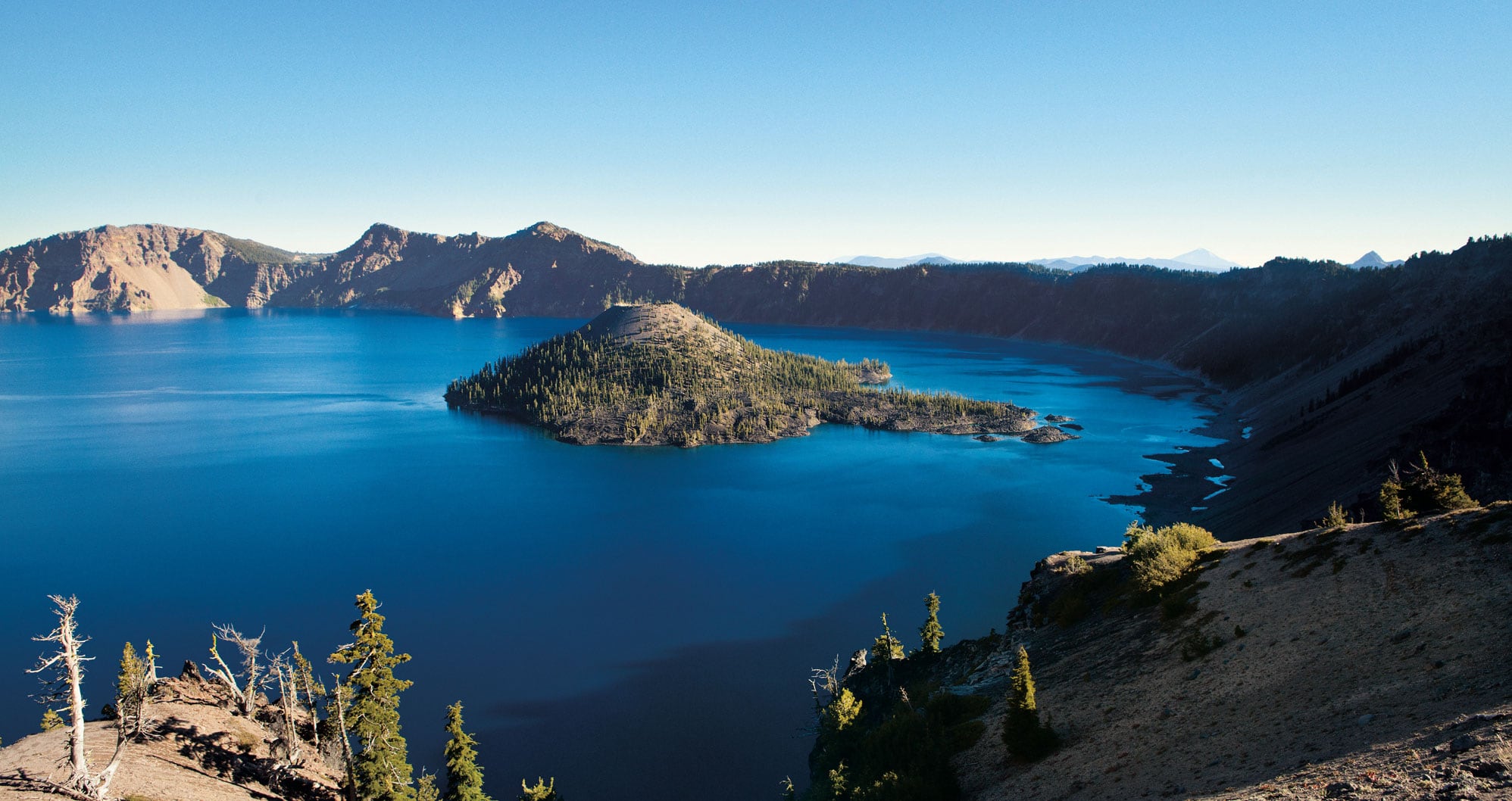 Visiting Oregon
Visiting Oregon: Explore Crater Lake National Park
If you are out looking for a region in the United States that is filled with abundant amounts of green trees and moist air, Oregon may be where you should head to. Oregon is a beautiful region that is known for being wet, green, and adventurous. Specifically, there are many spots for hiking, exploration, and conserved beauty. One is Crater Lake National Park, which is located in the Cascade Mountains of southern Oregon. This National Park is known for Crater Lake that was formed by Mount Mazama and has many visitors each year.
This National Park was founded in the Spring of 1902 and has been conserved ever since. Crater Lake is the deepest lake that exists in the United States and sits at 1,943 feet deep. Crater Lake is also the ninth deepest lake in the world. The National Park now remains at 183, 224 acres and recieves well over a half a million visitors per year. Due to the weather in this region of Oregon, Crater Lake is actually only visible during half of the year. The rain and clouds block the view of this beautiful lake, most days, and there is expected snow throughout the year. In fact, it can rain or snow on any day of the year. You can find sunny days during the short summer months of July, August, and September. It is best to look at the different seasons before planning your trip to Crater Lake National Park, so you may have the best experience.
This National Park is filled with many different areas and things to do. When entering the park, you will need to pay an entrance fee. From here, you can go through Rim Drive and discover the many different views of Crater Lake and the different volcano formations in the area. You can also go to Rim Village at Crater Lake where you can find the visitor center to receive information about this region. When visiting, some of the many activities include hiking on some of the numerous trails such as Sun Notch, viewing landmarks such as Wizard island, and enjoying the beautiful spots of nature here in Crater Lake. You can also go fishing, biking, and boating during the right season here in Crater Lake. If you decide to visit during the winter months, there are also activities you can enjoy, such as snowshoeing. There are also spots here in Crater Lake for camping and exploring throughout the Cascade Mountains. If you want to backcountry camp, you may need a permit, but the experience can be well – worth it. If skiing is your thing, make sure to check out the many trails that are available here in Crater Lake.
If you are in Oregon and want to experience beautiful nature and the calming earth's natural formations, it is suggested to head over to Crater Lake National Park. Filled with adventure and beauty, you will not be dissappointed.
Visiting Oregon: Crater Lake National Park Preparation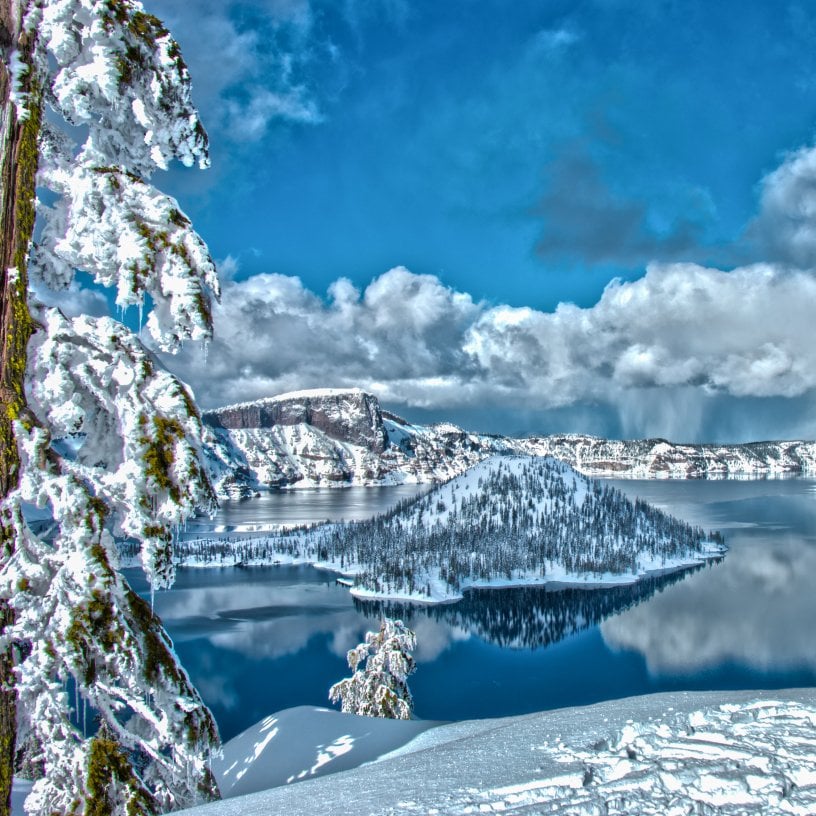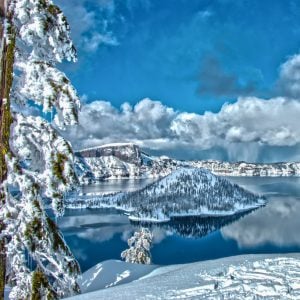 When you visit the state of Oregon, most times, you will know the weather conditions and hopefully, you are prepared for any and all conditions. Specifically, when you head up to Crater Lake National Park, you will be heading up in elevation. Crater Lake National Park resides above 6,000 feet elevation. Due to this, the weather is going to be a bit chillier even though Oregon is known to have cold weather in many locations, even in the city of Portland. Before heading on your journey, you want to check the weather conditions for your stay in this National Park and you want to pack, accordingly.
It is best to decide if you are hiking, camping, skiing, or just going to explore the beautiful views of Crater Lake National Park. As mentioned previously, snow can occur in any month of the year. You will want to pack layers and have them available to you throughout your trip. The weather can, drastically, change throughout the day. You, also, want to make sure you have comfortable hiking shoes, a hat, sunscreen, and sunglasses, especially if you are going during the Summer months. It is, also, recommended to bring and have on you a good amount of water and possibly snacks. These small things that you pack will help make your experience in this National Park wonderful.
If you plan to go camping, skiing, or even snowshoeing, it is best to bring the proper gear, such as skis, snowshoes, and strong gear for camping. You want to make sure you have everything and anything in case the weather changes, your gear breaks, or if you get hurt. It wouldn't hurt to even bring a small emergency pack for your time here. Anything you may need for emergencies or for a great time can help make your journey in Crater Lake magical.
Finally, you want to make sure you check the road conditions before going to Crater Lake. This region receives large amounts of snow every year. Sometimes, Rim Drive and season roads are even closed due to the large amounts of snow. During months such as February and March, the road being closed is highly likely, especially if Winter is strongly upon the state of Oregon. It is highly suggested to have chains for your car and a car that can sustain the weather conditions during the Winter, Fall, and possibly Spring months.
All of these little necessities are important when visiting a National Park that exists in a beautiful and high elevated place like Crater Lake. It's beauty is hard to find and well – worth it, especially if you come prepared. It is also recommended to not forget your camera. The Cascade Mountains bring joyful moments you want to capture and Crater Lake is a place you will want to cherish for quite some time. If you are interested in visiting this region, it is highly recommended. Oregon is beautiful and Crater Lake is calling your name. What are you waiting for?