Thanksgiving Crafts
Often times, the Thanksgiving spirit kicks off long before the actual day itself. The weeks of November leading up to the holiday can often feel bloated with anticipation. Children, especially, after the sugar rush of Halloween, can seem overly eager for the incoming feast. Maybe they love learning about it in school, or perhaps they just like turkeys. Regardless, their interest can be a handful, which is when Thanksgiving crafts and family fun can be useful.
The handprint turkey is a classic, of course, but for those ready for something fresh and a little more challenging, give the following ideas a try:
Design a Cornucopia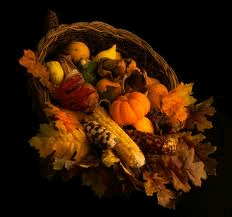 The cornucopia is a horn-shaped basket, often made of wicker, that often graces Thanksgiving tables. It is often made of wicker and, as a symbol of abundance, is overflowing with fruits and vegetables. However, in the modern world, a traditional cornucopia design may not accurately represent your family. It can be a rewarding creative experience to design your own.
First, find a basket – you can purchase one at a store, or you can make your own out of materials available at home. Shape newspaper or aluminum foil into the shape of a trumpet bell, tape it all together, and you'll be good to go.
Afterwards, decide what should go in the cornucopia. What is plentiful in your life? What are you grateful for? Once you decide what you want, either gather the items or draw pictures of them. Arrange the items in your basket, and then voila: You have a beautiful, personalized cornucopia to decorate your home for Thanksgiving.
Pumpkin Poultry
Do you have any pumpkins lying around? Any would-be jack o' lanterns that just weren't meant to be? No problem. Just turn them into a turkey!
Use the pumpkin as the body of the turkey decoration. Then, cut out two feathers out of blank sheets of paper. Everyone can take turns decorating tail feathers before gluing them onto the pumpkin to make a colorful, beautiful bird.
Either draw or print out a turkey head to glue onto the front. Be sure to give it a long neck, and for added fun, buy some googly eyes to stick onto its face.
If you hollow out the pumpkin beforehand, you can also use your pumpkin poultry as an ingredient for a delicious Thanksgiving pie.
Popcorn on the Cob
This one's a quick and easy project, especially for hosts who are expecting a large number of children. You'll need transparent snack bags, yellow construction paper, green tissue paper, and popcorn.
After you cook the popcorn, fill each snack bag with the popcorn and seal it. Cover each bag about a third of the way with yellow construction paper, and you can use a brown crayon or marker to draw on corn kernels. To finish off this cute little craft, use the green tissue paper to shape a husk around each snack bag, gluing it down and pinching crinkles into it for realism.
Thanksgiving Jokes
All the while, why not have a battle of wits with loved ones? See who can come up with the cleverest riddle. See who can come up with the worst pun of them all. Here's one to start you off:
Q: What did the turkey say when it was invited to dinner?
A: No thanks, I'm stuffed!
References:
Facebook Comments