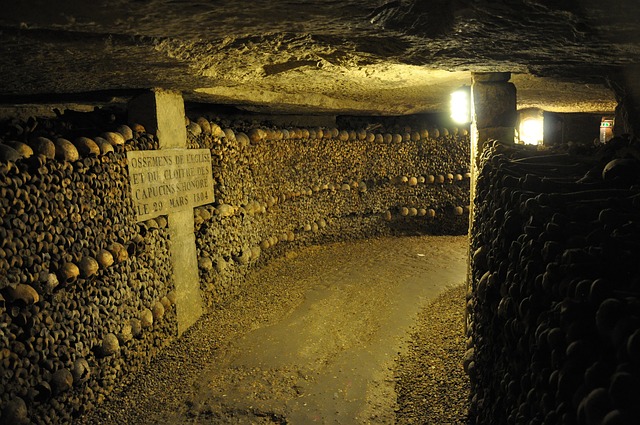 The Catacombs of Paris
The Catacombs of Paris, which are a veritable maze underneath the gorgeous city of Paris, were made in the galleries of the previous quarries whose stone was utilized to construct the capital. These catacombs are located about 65 feet below the ground. Astonishingly, this underground graveyard contains about six million Parisians. In the late 1700s, graves located in the Les Halles district, were overcrowded and the dead bodies were improperly disposed of, which caused the spread of various diseases. So, sepulchers developed as an innovative and tactful answer to a dire question of the general public's well-being. A decision was taken to make use of the limestone quarries and catacombs under the city of Paris. When an oversubscribed graveyard, named Saint Innocents, was shut down because of the health issue, the Police of Paris buried all the undisposed of remains in the necropolis of the underground system of antiquated limestone quarries. At present the Catacombs of Paris can be found to the south of the former city gate. This is very close to the Place Denfert-Rochereau which stands above about 186 miles of Catacombs snaking their way below the city.
A remarkable site in previous quarries
The Catacombs represent the interface between the historical backdrop of Paris and the Earth's topographical advancement. Forty-five million years prior, Paris and the encompassing territory were covered by a tropical ocean. A huge amount of sediment accumulated on the sea bed and subsequently formed the limestone which is visible in the Catacombs today. That period was called the Lutetain period by the geologists. In the early 1st century AD, the Gallo-Romans used this limestone to build the city named Lutetia. A huge quantity of these stones were needed and supplied from the quarry. The mining activity continued at the site over the centuries and that created huge empty areas, in the eighteenth-century it turned into the ossuary which became the Paris Catacombs.
Uses of these abandoned limestone quarries
In 1867 a significant part of the tunnels of the Catacombs was opened for the general public as a museum. Interestingly, these tunnels were also used during World War II by the German army and the French Resistance fighters.
Tourist Attraction
Today, these 18th Century Catacombs are a popular tourist attraction. Inside the tunnels, the halls and caverns of walls contain precisely arranged bones. Some portions of the arrangements are almost masterful in nature. There also rusty gates blocking sections from public access. These are either un-renovated or were excessively un-safe for regular visits. A tourist can take a tour through the Catacombs. The duration of tours range between 45 minutes and 3 hours. Tour groups visit around 1.2 miles of these passageways, which is not a great deal since the underground cemetery takes up 4.2 square miles.